Gemini men are sexy, steamy, and yet very picky about whom they want for a mate to be with forever. Here are some things that he's looking for in his ideal wife. I hope it helps you determine if this may be you he's looking for!
A Woman That Understands His Needs
Ultimately a Gemini man wants a 50/50 type of partner. He has to have someone who gets who he is, what he brings to the relationship, and that he sometimes needs some personal space.
He will thrive well with a woman who is warm, generous, self reliant, independent, and giving of her time when he wants to have "time out". It doesn't mean he loves his lady any less; he just needs to have time he can be on his own.
If you get it and you don't take it the wrong way; he'll really appreciate you so much more than you can ever imagine. He'll treat you like his Queen when you treat him with loving care and respect.
He typically isn't that good at being responsible as far as remembering to pay the bills and dealing with the mundane. He will appreciate your help with that kind of stuff if you're to be in his life to stay.
Gift Him With Unique and Fun Experiences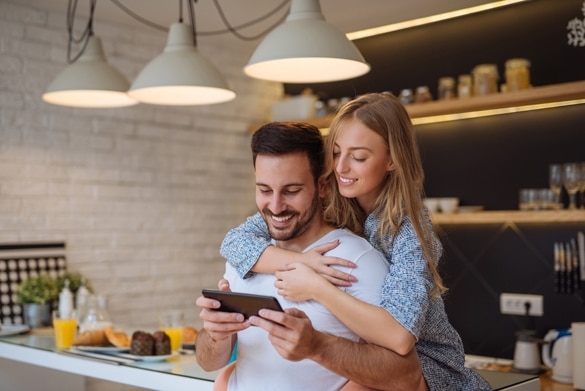 Gemini men need a woman who will be self motivated but also will motivate as well as; inspire him. He needs a nudge sometimes to finish things he's started. He has a tendency to start projects and not ever get them done.
Help him to realize that when he finishes the projects; he can then begin other and more exciting ones. Teach him what accomplishment feels like. Follow through is important.
Show him by example what it means to be a smashing success. He is already highly motivated and wants to find success but he's more turned on by excitement and whirlwind experiences than he is by completion.
However; once you compliment him as his partner; you can help him realize that completion is a wonderful gift in life. Help balance this twin soul out. He is a different man every day but at the core; he's still him.
Never Let It Get Stale
This is one of the most important qualities you have to maintain when you love a Gemini man and expect to marry him. You have to always keep stimulation a priority in your life together.
One of his biggest fears is of things getting old, complacent, or boring. If you're able to help him avoid this; he'll absolutely give you all the love and compassion you could ever want in your life.
Be good to him and he'll always be good to you in return. Try to think of fun things to do often as a couple. Be unique, leave him sweet love notes around the house that he isn't expecting, buy him a plane ticket for one for a weekend getaway.
Pick something he really likes and help him to achieve it. If he wants to see Niagra Falls, getting him a ticket for him to get out there by himself will show him how much you respect his personal time as well as how you aren't afraid to excite him.
He's a big kid in a candy store ladies. Treat him like that and you'll win over the best husband you could ever wish for.
Buy Lots of Books!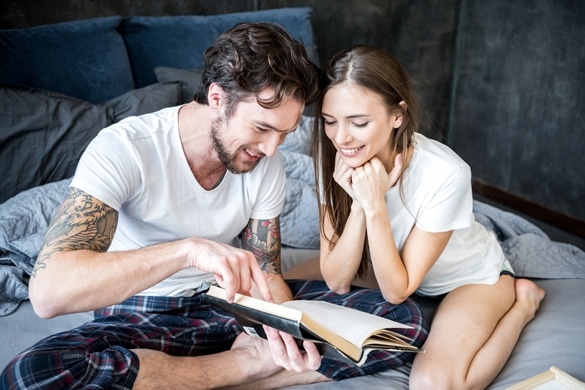 This guy is motivated by brain stimulation. He will get into books if you bring him some. He'll especially like it if you get him some "do it yourself" types of books. This gives him options for new projects.
You can also take him to a library once in a while for a couple hours of fun browsing books that are exciting to him. Perhaps you can even find something you both like and read to him.
I know it sounds weird but he seriously loves stuff like this. He'll be putty in you hands if you're able to find something that he really enjoys and then read books to him about it.
It's not that he can't read; it's that you're giving of your own time to do something so incredibly selfless and sweet that will turn him on more than you've ever seen.
Keep Up the Pace
Once you get older, it will be harder to do pull off but; what he needs is for a woman that will always keep up the pace. Energy is absolutely necessary to be able to do things he does or wants to do.
Keeping your passion and desire to obtain that which you created goals with is important. You'll need to find ways to keep up your energy levels. Eat healthy, exercise, and use your brain as often as you can.
Gemini men fall hard for women that are very intelligent, classy, and driven in their own lives. He will expect or at least desire a wife that will hold these same qualities.
As long as you keep moving and doing everything you can to make the most of every single day; you'll win the Gemini over into marriage. He ultimately wants the perfect match.
The qualities I've listed so far are the most important things that a Gemini man needs in a life partner and more importantly; a wife. He will want to feel absolutely comfortable so when he does propose; he'll want to speed up the process.
As strange as it may seem; he is not in a hurry to get in engaged but once he is; he basically wants to hurry up and get through the process so he can settle in and begin his new life with his wonderful new wife.
The best thing you can possibly do is read through all the information you can on the Gemini guy to figure him out. Click here to find out more about this mysterious guy.
Again; I truly hope that this article helps you to figure out if you're who your Gemini guy is looking for or if he's what you are looking for.
Share your story (or situation) with our community in the comment section below (don't worry, it's anonymous).
Wishing you all the luck of the universe
Your friend and Relationship Astrologer,
Anna Kovach
HOW TO ORDER MY "GEMINI MAN SECRETS" GUIDE?
Click this link here and when you scroll down to the bottom of the page click "ADD TO CART." Once you complete your order, you will gain INSTANT access and can start understanding your Gemini man within minutes. You now receive 4 amazing guides PLUS my "VIP CONSULTING" to ask me anything — all for the price of just 1 guide! My Gemini Man Secrets helped THOUSANDS of women like you…understand, attract AND keep their special Gemini man, I'm sure it can do the same for you, too.
---
---