Gemini men, what wonderful creatures, but these guys definitely have quite a reputation… There is a side to him that is a lot less desirable than I would like to admit. These guys are just so fickle and can leave a woman feeling totally confused about where she stands with him.
His actions are actually so hurtful at times, you might wonder what you ever saw in him in the first place. The funny thing is, a Gemini man thinks he is so smart and that you don't actually notice his misgivings but of course, you're a woman and your intuition is always on point!
Here is a list of things you need to know about a Gemini man, and especially the things he doesn't want you to know about him! At least you will now have all the facts and you will be able to make a clearer decision on whether or not you actually want to enter into a relationship with your Gemini man. Continue reading to find out more:
Negative Traits Of Gemini Men That You Don't See Straight Away
I dunno about you girls, but to me, consistency is everything in a relationship… This is probably why I ended up with a stable and reliable Taurus man! Unfortunately, the same can't be said about Gemini men – they are so inconsistent, but you may not notice this straight away.
When you first start seeing a Gemini man, he is pretty amazing. So inspiring, so charming, and so exciting to be around. It must feel amazing to have all his attention on you but unfortunately, this never seems to last…
Before you know it, your Gemini man is canceling on you, forgetting about dates, not keeping his word, or acting really fickle. It can be a real nightmare to contend with, but at least now you have been warned.
However, if you are a woman who likes to go with the flow, is spontaneous, and is quite adaptable, then maybe a Gemini man is exactly who you need to be with. I firmly believe that there is the right person out there for all of you, it just depends on what you are looking for in a man.
Lots of Mistruths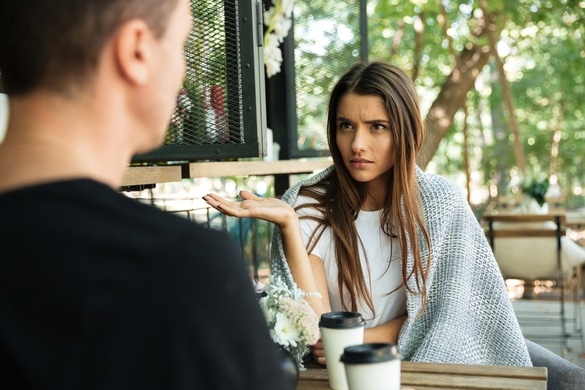 The Gemini man is dual in nature, which means he's two different men combined into one body. This means that completely different personalities can come out at very different times. This can be quite a weird thing to behold if you have never dealt with a Gemini man before. How is it even possible?
These are the guys that one moment can seem very sweet, funny, and interesting to be around. Then the next moment, he can act pissy, yell at you, and say hurtful things. They are incredibly moody, even if they won't admit it themselves.
Not all Gemini men are horror stories, so I don't want to paint that picture for you. However, there are many Gemini men who are effectively hurting women throughout their lives and this is because some of them for some reason just can't keep their word.
They may not mean to be this way but it does tend to happen because of his dual personality. He will promise you the Moon and stars, and then when it comes time for him to provide it, he will look at you like you're crazy.
So oftentimes, Gemini men do tend to tell lies. By lies, I mean making promises he never intends to keep. He has no conscience when he does lie on purpose. If it means he gets what he wants, he'll do it. This is quite psychotic, so you need to be careful!
ADHD Type of Guy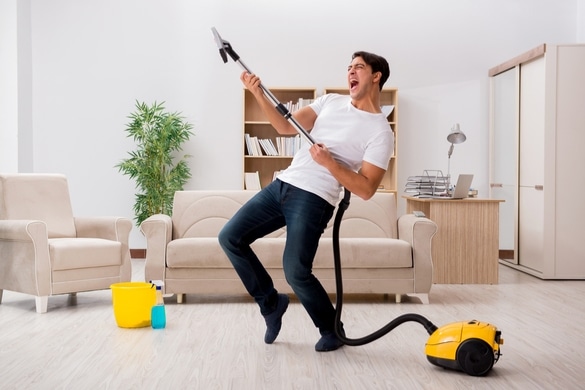 This guy is never content, never sits still, and wants to continuously keep going. Focusing on one person or one situation is very difficult for him. This also makes him seem very flaky or flighty. When he is bored, he just goes off and does whatever takes his fancy, nothing can get him to focus!
He doesn't understand how to pay attention and not be so concerned with so many other things at once. Until he learns how to balance his two sides, he'll have troubles throughout his life.
Relationships are difficult because he doesn't have an easy time committing. He loves having lots of different women around him at all times. He'll often have plenty of female friends (they're often more than friends). Variety is the spice of life for any Gemini guy!
If you meet one of these Gemini men, you'll be able to spot if he's one of these darker side Gemini men. Again, not all of them are this way but many are. Watch out for the red flags so you don't waste your time or heart. Trust your gut, it always knows the difference.
Unpredictable and Unreliable
There is no way to ever know what he's thinking or doing at any given time. He's distracted very easily and this could change his behavior or mood. One minute he may be sweet to you and then another moment, he may be very sarcastic.
Sometimes he'll be there for you and then other times he's nowhere to be found because he got distracted by one of his buddies coming by or calling him up.
Anything can distract this guy which will make you unable to really rely on him and even more difficult for him to be predicted as far as his moods go.
Insensitive Actions
Gemini men sometimes come off as very funny. He likes to make you laugh but when his dark side comes out, he can come off as very rude and insensitive. He has a way with words and he really knows how to cut people with his sharp tongue, and yes, it is totally intentional.
He could try to make a fool of you and honestly won't care what you're feeling about it. Also, he will want to do what he wants whether or not you care. He lives for himself and no one else.
This is also the side of him that tends to be a cheater. After all, if he doesn't care how you feel about his actions, he'll go ahead and do what he wants and when he wants to do it. There is very little you can do about this, unfortunately.
I can't stress this enough: not all Gemini men are this way. However, there are plenty of them out there that are. I'm just trying to help give you some ample warning so you don't get tangled up with one of them.
Some Gemini men are very worthwhile but it's being able to tell the difference at the beginning instead of wasting time that's important. This is why you need to pay attention to what I'm saying in the early days!
Psychotic Tendencies
There are many women that have talked to me about their Gemini guy experiences and some of them would easily tell you that these men are psychotic at times. And I must say, I agree, Gemini men can be totally unhinged.
They'll pretend to be the typical Gemini but then if you decide you're not into them, they get offended and start going to retaliate by being very nasty toward you. They can become stalkers and they can read you the riot act for not liking him. This can be a little scary to deal with, in fact.
Again; this has a lot to do with his dual personality. Some Gemini men have a docile and tender side and then a cheeky side. However, some Gemini men have an even darker side than that. You really need to keep strong and know yourself if you want to deal with this.
It's a matter of really paying attention to his actions. If you notice one minute he's acting cool and calm but then the next he's talking about marriage, then you need to get out of it quickly. If he is chopping and changing his mind often, then he's probably not being real and just looking for a reaction from you.
Most Gemini men aren't ready for commitment after going on a first date. Any sign of that nonsense should tell you that he's not right in the head and you need to run away fast. Don't waste your time for a second entertaining this!
The REAL Gemini man will want to wait before he commits. If you see some variance of this, be very careful with what you say and do with any other type of Gemini.
If you notice darker signs from your Gemini guy then you may need to go ahead and bail before things become too chaotic and you end up really hurt. Now, if you're one of the lucky ladies that don't have this type of Gemini, then hold tightly onto your guy!
Truly there is nothing scarier than a potentially dangerous man. The dark side of Gemini can be this way. Just watch the red flags and you'll know what type of Gemini you're dealing with.
Frequently Asked Questions About Gemini Men
Now that you know a bit more about Gemini men and what to expect from their dark side, you might have a few more questions to follow up on this. Let us explore some of the questions I get asked most frequently by my readers about Gemini men.
How Does A Gemini Man Test A Woman?
There are a variety of ways a Gemini man will test a woman and I am guessing you are not surprised because of how multifaceted this guy tends to be… So, it all depends on what kind of Gemini man you are dealing with.
Some Gemini men will test you by disappearing for a while. What he is actually doing is testing whether or not you are going to give him space. A Gemini man loves his independence and can only be with a woman who understands that he can't be at her beck and call all of the time.
So, if you feel your Gemini man is going quiet, let him. Give him space and do not run after him. If this is how he wants to do it then you need to play by his game. If you are going to chase after him then you are just going to put him off.
Other Gemini men might test if you are someone fun and playful to be around. You see, this guy needs a lot of entertainment and variety to be excited enough to want to stay with someone long-term.
He might test you to see how much excitement you can bring to his life, or if you are a woman who is just going to settle once you fall into a relationship. If you want to be with a Gemini man you are going to have to keep things interesting to keep him coming back for more.
Are Gemini Men Controlling?
If there is one positive thing to come out of this article then it is the fact that Gemini men tend to be the least controlling out of all the signs. What a relief, or am I wrong? I think every woman secretly wants her man to get a little jealous or possessive over her.
Not in a crazy way, but I think as women we appreciate it when a man claims her to be his. It makes us feel wanted and loved. So, when a Gemini man doesn't even get a little bit worried or jealous when you get attention from other men, it can be a little discouraging.
Unless of course, you are one of those women who likes to be super independent and have a lot of space, then a Gemini man is probably the best kind of partner for you. He'll let you do whatever you want and understands your need for freedom and variety.
Why Are Gemini Men So Mean?
Gemini men have a sharp wit and tongue, and sometimes they don't truly understand the power of their words and this all comes down to maturity, unfortunately. A Gemini man is mean because he is childish and doesn't understand the gravity of what he is saying.
He might say something flippantly and not realize the impact it might have on you. He believes in being straightforward and keeping it real, so he might say things that hurt you just because he is being "honest" and telling the "truth."
A mature Gemini man would never do this… So, if you notice this happening repeatedly with your Gemini man, then you might need to reconsider if this is actually what you want in a relationship. Life is too short to waste it on someone who makes you feel terrible about yourself.
A Gemini Man Blocked Me – How To Interpret This
Gemini men love to play the field. These guys usually have a string of women lined up and I am sorry to say if he is done with one then he will quickly replace her with someone else, and so the cycle continues again and again.
This is probably when he will just block the woman he is dealing with because what is the point in entertaining her for much longer? He hates having to deal with other people's emotions and will much rather just get on with it with someone else.
I know this probably really hurts to hear, but it is better to get the wake-up call now, than toss and turn hoping things are going to get better because the likelihood of a Gemini man coming back is very slim.
He probably feels like he's been there and done that and that there is nothing new to learn from the situation. It is best that you just cut your losses and move on, otherwise you'll just be breaking your own heart all over again.
Read next: How To Tell If You're Wasting Your Time With A Gemini Man
Conclusion
I hope now that you know more about the Gemini man and some of his most shocking behaviors. This guy can be pretty terrible, so remember all my warnings when you decide to take it to get together with him in a relationship.
He is a super complex person and it can be quite difficult for you to ever truly know who he is and what he really wants in his life. So always keep your eyes open for the warning signs.
Gemini men can be complicated creatures, one minute they are up and the next they are down.
They are incredibly fickle at times, and then at others, they will remember every little detail about your life
It is so puzzling!
This can be quite confusing and leave your head spinning around.
All you truly want is to be in your happy place with your Gemini man.
But you never know which mood you are going to find him in…
Is he going to be fun and witty, or nervous and anxious?
The Gemini man can be really amazing.
If you are a strong woman who can stand up for herself and still be patient with him, then you will have a rewarding marriage.
A Gemini partner is very caring with his family and will do what he has to in order to make them happy.
He has big ideas for everyone and wants to improve the lives of the people he cares about.
He is also a go-getter and will go out of his way to accomplish all of his goals and to make all of his dreams come true.
As his partner, you will be his queen, his baby mama, and the woman he turns to when he needs to talk or even to cry.
You'll be his rock and reason for fighting.
And if you can remind him about how much fun the two of you can have together, you know you can turn things around
But how do you reach this point?
How do you make him see you as his queen?
Is there anything specific you can do to always put yourself as number one?
Fortunately, I always have a couple of tricks up my sleeve…
> > Click here for more information
Be a fearless follower who lets her Gemini partner lead the way, and you'll have a worshiper for life.
But also be his guiding light and help him move through the world with grace and love.
Don't be afraid to take the plunge and build this beautiful life together.
The two of you can do anything because you are together.
Enjoy your time with your Gemini partner! This is a relationship meant for the record books!
But it is up to you to make it happen…
If you truly want to make a breakthrough and make this relationship successful then you are going to have to work for it…
> > Click here to get all the information you need to make your relationship as strong as it is meant to be.
Wishing you all the luck of the Universe.
Your friend and Relationship Astrologer,
Anna Kovach