Are you a woman who has gotten herself into a precarious situation with a Gemini man and now not sure if he'll want a relationship or not? Is he into "friends with benefits?" or will he ever want more with you? This article may help you.
Does he get into "Friends with Benefits?"
Absolutely he will undoubtedly allow himself to take on a friend with benefits. In fact; he may have more than one if he's able to pull it off. Gemini men don't really like to jump into commitments.
He would prefer to have a "friends with benefits" type of situation or have an offer to have an open relationship. Gemini men prefer Poly Amory if they can have it. It gives them the variety and excitement they crave.
So yes, he definitely enjoys having these types of setups. He can have sex with a friend of whom he has some trust in while he flirts around with other ladies. He has no consequence or ties to worry about.
Gemini will want to get what he can without having strings attached so a situation like this would make him feel pretty great, actually. The problem is; most women are not into this.
They sleep with the Gemini guy and then expect that there will be more with him; only to find out that he isn't into wanting anything more. Many times the woman he chooses to have a relationship is someone he hasn't yet slept with.
So keep in mind; if you don't clarify what you want or don't want up front; he'll try to have a "friends with benefits" situation with you. It's up to you to set him straight.
If you get into bed with him, beware!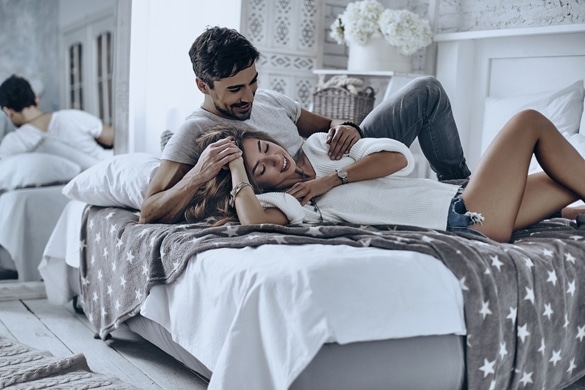 Women often confuse feelings and sex as being all in one. There are many men that feel this way also. However; Gemini is not one of those signs. He can and will separate sex and love.
If he's trying to get you into bed upon just having met you; he's only trying to get into your pants. It does NOT mean he wants to have a relationship or even date you. So please be careful when you try to form some sort of bond with a Gemini man.
Not all of them will just dive into bed with anyone but many of them actually will. They love having a variety of women to choose from to feed their ego and to keep themselves from being bored.
If you meet a Gemini guy or have met him already and you're really into him; hold off on the sex if you can. I know it will be difficult because he is so mouth watering but; if you can wait; you'll have a better chance at an actual relationship.
Taurus men are notorious for doing this very same thing. They will commit to the woman they fall for but in the meantime; they do not mind at all in having a "friends with benefits" type of situation.
Sadly, they will assume that because you got into bed with them; that you're aware of their intent and are ok with it. So you have to be VERY clear about what you want otherwise; you could get hurt emotionally.
If you DO want a Friend with Benefits…
The Gemini man makes the perfect candidate for this. He won't expect more from you and he'll be open to you being with other people. Even in a relationship; he isn't jealous at all.
So when he's in a "friends with benefits" relationship; he really isn't jealous. This gives you freedom to basically do just about anything you want to do. Though I'm sure he'll want to make some kind of agreement with you.
An agreement would mean maybe exclusivity with sex but date anyone you want or it can mean that there are other "rules" to your set up. Unlike most of the other signs; this guy will be very open to ideas you've got.
If you are looking for a situation where you can sleep with whomever you choose or want an open relationship; the Gemini man is great for this as well. Again; he has no jealous bone in his body.
He loves variety and feels that you should want it too. It's more exciting and taboo that way. If you're alright with swinging that way; he'll be more than happy to oblige you.
When you want something more serious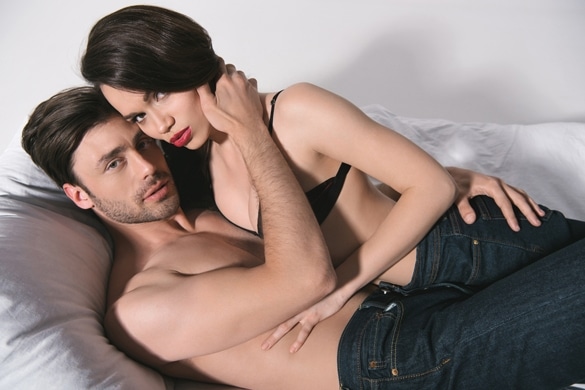 You need to let the Gemini guy know upon getting to know him that you're reserving intimacy for a future possible relationship. That way nothing is misunderstood.
It may be very hard to resist him but if you want more from him than sex; you're going to have to hold out a bit. I suggest this where Gemini, Aquarius, and Taurus men are concerned.
If you give your body up to them willingly at the beginning; they will assume that they can keep having sex with you and not have to commit. Why get involved when they don't need to?
So tread very carefully if you find yourself caring very much about any of these signs. Gemini men will typically need you to tell them what you want. Assuming he'll commit to you once he is intimate with you is a huge mistake.
This is a red flag and you need to watch yourself when you are involved with a Gemini man in any way. If he starts spending more time with you and showing you signs of wanting to date you; then you'll be alright to let loose.
Otherwise, hold off and reserve yourself for when he's ready to actually go somewhere with you. If you do not; you may very well end up hurt and be like some of the women who write in to me broken hearted as well as confused.
It may help you to get to know Gemini man a bit better. Click here for more information so that you are armed with knowledge about him.
I hope this helps you to see that if you jump too fast and give in too quickly; you could end up hurt. Watch yourself and get what you deserve instead!
Share your story (or situation) with our community in the comment section below (don't worry, it's anonymous).
Wishing you all the luck of the universe
Your friend and Relationship Astrologer,
Anna Kovach
HOW TO ORDER MY "GEMINI MAN SECRETS" GUIDE?
Click this link here and when you scroll down to the bottom of the page click "ADD TO CART." Once you complete your order, you will gain INSTANT access and can start understanding your Gemini man within minutes. You now receive 4 amazing guides PLUS my "VIP CONSULTING" to ask me anything — all for the price of just 1 guide! My Gemini Man Secrets helped THOUSANDS of women like you…understand, attract AND keep their special Gemini man, I'm sure it can do the same for you, too.
---
---