Are you dating or crushing on a Gemini man that is just confusing you and making you feel lost? You're not the only one! Many women face confusion when dating the Gemini man. 
Fortunately, I'm going to help you navigate this complex Zodiac by giving you some tips that will boost your level of understanding of the ever-changing mind of a Gemini man. Keep reading to learn the seven questions to ask when Gemini man sends mixed signals. 
The 7 Questions To Ask When A Gemini Sends Mixed Signals
1. What Do You Think Of Us As?
This is quite possibly one of the most important questions you can ask a Gemini man. It's essential! If you two haven't had a talk previously about where things are and where they are headed, then you need to immediately. 
If you aren't dating but he flirts with you, you can deviate the question and turn it into "Have you ever thought of us hanging out?" That way you can find out whether or not he's interested.
If you are dating him and ask the question about what he thinks you two are, he should be able to tell you "casual, friends, dating, etc." If he doesn't, then he may be trying to play you… so be very careful!
Him saying "I don't know," means that he hasn't actually thought about further than what you already have been –even if that means friends or friends with benefits. 
It's important for you to figure out where his head is at and also his heart. If you don't ask, then you won't know and then you'll end up being more confused than ever when he does the hot and cold thing. 
2. What Are Your Future Plans?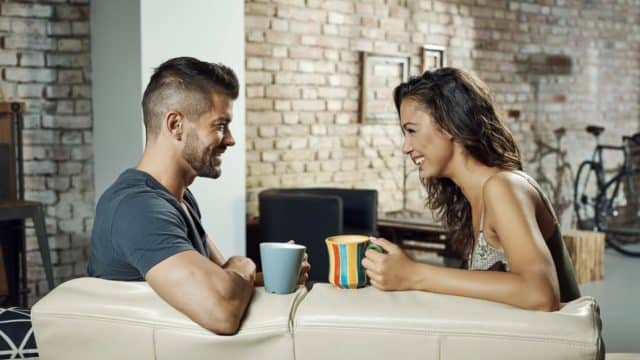 This is another essential answer that you need to know. Does he see you in his future, or does he only see himself? That will impact you and whether or not he considers being with you.
If he says "we" or "us" when discussing his plans or goals, then you know you're in and that he's with you. It's just one of those tips that helps you figure out what he's feeling for you. 
Ask what his goals and future desires are. That gives you a glimpse of what he's trying to accomplish with his life and his future. It also will show you whether or not you're likely to join him in those plans.
If he doesn't mention you at all, then you may need to ask the first question I gave you so that you can get more clarity. Don't try to guess what is going on because you'll likely never figure him out. 
3. Are We Exclusive?
I realize this one may be a difficult thing to do, but it's something that needs to be done. If you aren't sure if he's just with you or if he's open to meeting other women, you need to get some clarity.
Don't EVER assume that just because you're dating him that he's not dating other women or talking to them. He's a big flirt and he loves women. It's best that you actually find out where he stands in this situation.
Even if you aren't serious yet, you can ask for exclusivity so that the two of you can explore your relationship without worrying that he could be intimate with or seeing someone else.
If he is talking to someone else, at that point he should tell you as much, so that you're not kept in the dark. You can even say, "if you're talking to other women besides me, then please tell me." 
That way if he says he is, you can either decide to drop him or continue to see other people yourself until he's ready to figure out who to settle down with. At least find out what he's doing!
4. Are You Angry Or Upset With Me?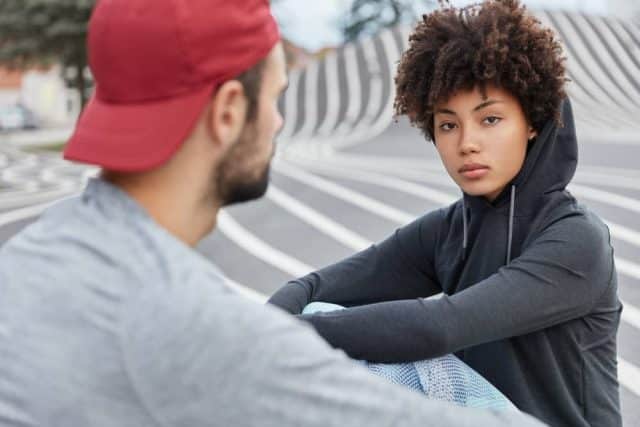 This can be rather sticky because he will either admit it or he will say "no, I'm fine" which doesn't help, because if he's ignoring you or giving you the silent treatment, then you know something's up.
Try saying something like, "I can't fix what I've done if I don't know what it is, please tell me so I can do better." That way he may actually fess up what upset him.
This isn't about begging for him to open up. This is about him being totally honest with you when you've done something to upset him without knowing. You have to get it out of him so that things can be worked on together. 
Compromise can happen but not until he tells you how he's feeling! That's a hard thing to get out of him but it's not impossible, if you do it in the logical way I've suggested.
5. What Can I Do?
 This magical question can apply to many things. If he is obviously struggling with something then ask if you can help him. If he is trying to cook for you but is lacking finesse, ask him if you can assist him.
Believe it or not, if you ask him if there is anything you can do to help him or offer him, he will think the world of you for being so entirely sweet. This helps him to open up where he might not otherwise.
If he's going through a hard time and you can tell but he's not being verbal about it, you can tell him "I noticed that you're maybe having a hard time. If you need me to help with anything, I'm here." 
This gives him some security and stability that he may actually really need from you. Offering it up will show him that he can rely on you and he can actually talk to you. 
6. Do You Need Some "Me" Time?
I hate to say it, but when a Gemini man needs me time, he's going to take it –whether you offer it up or not. It's better that you do suggest it when you notice he's off or wound up. 
That way, you know what is going on, and he'll appreciate it. Many Gemini men love copious amounts of free time. So when you offer it up, he'll likely take you up on it.
This works particularly well if he stressed out about work or other matters that have nothing to do with you. Sometimes he needs the space and time to sort things out for himself.
It's not because he doesn't want to spend time with you. It's more that he needs to be himself by himself. It really does help him greatly. Try doing this when you notice he's antsy or bothered. 
7. Would You Like To Take A Little Vacation With Me?
When you're unsure what is going on with Gemini man, sometimes a mini vacation does wonders. You two are able to get away together alone and have a good time!
While you're doing something adventurous and exciting, you can talk to him and bring up some of these other questions that I've provided you (especially the first one!). 
There is no better way to find out what is going on with him and what he want with you then by going for it. Try to keep things fun –he'll respond better when he's feeling good.
Feeling good and as though he's able to relax is a fantastic combination. He is adventurous, so pick something that he finds fun and that you are happy to do as well.
You can talk to him ahead of time and find out what types of trips he likes to go on, if he likes camping, or if he likes going to explore abandoned places. When you find out what he really is into, you can make a trip including it.
Read next: Gemini Men Can't Resist Chasing a Woman With These 8 Traits
Final Thoughts
I know it's hard to ask Gemini man questions. You can feel so nervous and even though he's warm and inviting, he can also seem rather cold and shut down. You can break through if you ask the right questions.
You are now armed and ready to tackle the Gemini man! Figure out easily where his head and heart are and if you're in his future plans. If you haven't started dating, you can find out if he can see dating you.
If you are dating and you want to get more serious, you can definitely figure out what is going on in that brain of his. You can also find out if he's the right one for you. 
By the way did you realize that the absolutely tantalizing actor Colin Farrell is a Gemini? Wow is he smoking hot or what? Yep, he's all Gemini ladies! 
Did you figure out some questions that worked well with your Gemini guy? Tell me what they are, I'd love to know! 
Share your story (or situation) with our community in the comment section below (don't worry, it's anonymous).
And check out my book, Gemini Man Secrets, for more insight on this mysterious Zodiac. Read it here. 
Wishing you all the luck of the universe.
Your friend and Relationship Astrologer,
Anna Kovach
---
---