I've had some women write in to me asking me why their Gemini guys tend to not open up and tell them how they feel. Gemini men are a big high maintenance and take a whole lot of patience to work with. Here are some reasons why they may not be fessing up to you how they feel.
He is a Logical Man
The Gemini guy is one that thinks with logic and what makes sense. Emotions don't make a whole lot of sense to him and this makes him rather reserved when it comes to sharing how he feels.
This is often why he also takes forever and a day to commit. He wants to make sure that everything lines up from a intellectual sense before he'll dive into a commitment that forces him to feel things.
He will have all sorts of reasons for not moving things forward. If you find your Gemini guy keeps making up things for not getting more serious or he acts as though it's no big deal; he's in his head.
Gemini men often get in their own heads and it makes it hard for him to process what he's feeling. His logical side says that love is illogical and he has to fight that natural urge to suppress what he's feeling.
He has a hard time listening to his intuition but eventually he has to. He will go with what his gut ultimately tells him about the woman he's considering becoming more serious about.
Until that time comes; he'll always try to go with what he feels is most logical and that often times doesn't line up with a woman's heart and desires. Patience is key to waiting a Gemini man out if there is a chance.
Confusion Can Make It Move Slowly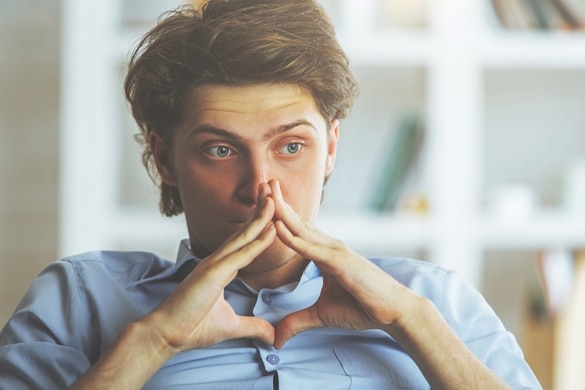 Some Gemini men understand their intuitive side but are confused with what they should do about it. He knows what the right thing is but fights the point of needing to do what he feels is right.
Fears can cause this to happen if he's been hurt in the past. He'll be a bit more cautious going forward. This is normal for just about anyone but Gemini will use it to keep a woman at arm's length.
If he isn't really sure what he feels; he'll hold off until he figures out what is going on. One day he may feel as though he's falling in love and the next day he may feel like he isn't.
This going back and forth is typical of a Gemini man. He's back and forth with his moods and therefore affects his important life decisions such as relationships and whether or not he should start one.
It's a constant battle for him between his heard and his logical mind. Until he's able to make sense of things; you may have to wait for him to come around. If you understand this about him; you'll know he needs that time.
It may be super frustrating for you to wait for him to get it together but if you do; you'll be very glad you did. It's better for him to feel confident and sure of what he's doing than to get involved when he isn't.
Heart Security Issues
It's not like the Gemini mistrusts everyone like the Scorpio man. It's just that whether his heart was broken before or not; he's intensely afraid of fessing up his feelings and being hurt.
He has a huge ego typically and is fragile as a result. If his ego or pride were to be wounded; for him it's like a mortal wound. He doesn't do well with feelings in general so this makes him guarded.
He'll flirt like crazy with many people whether he's in a relationship or not. He needs that extra boost of confidence that other people will give him via giving him attention back.
This can cause problems in a relationship with him as he has a hard time NOT flirting with other women while he's with the woman he loves. This isn't about her or lacking feeling for her.
It's more about self preservation and the need to gain attention from other women at any given time. It keeps his self confidence higher and helps him continue his life in the way he wants.
The problem with flirting is that you can never fully be sure that he's into you just because he's flirting with you. Remember; he flirts with others and he doesn't necessarily want to "get" with them.
This is sort of a defense mechanism for him really. He's able to keep everyone at arm's length while flirting like the charming guy he is. When he really does truly get into someone; he has to fight with himself about it.
Logic will tell him that he will get hurt. His heart tells him that it's time to invest and let someone in. This will go back and forth until he finally comes to a conclusion.
Even Harder To Get Him to Marry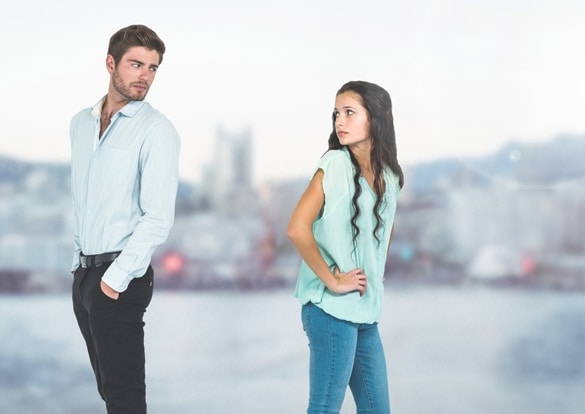 I'm not saying it's impossible but since it's hard enough for a Gemini man to admit his feelings for you and deepen a relationship; it will be more difficult to get him to want to get married.
This will take many years of dating you. It's very rare for a Gemini to hop into a marriage after only dating for a year or two. I know some couples where the Gemini guy took 10 years to propose to his Aquarius wife.
So trust me when I tell you; Gemini men take a whole lot of time, patience, and effort. They're worth it though if you can learn to live the way he wants to have the relationship. The ball will be in your court in the event that he chooses you.
It's always worth getting to know everything you can about him. Click here to learn more about what makes the Gemini man tick.
I hope this helps give you some insight on why Gemini men can be complicated with their feelings.
Share your story (or situation) with our community in the comment section below (don't worry, it's anonymous).
Wishing you all the luck of the universe
Your friend and Relationship Astrologer,
Anna Kovach
HOW TO ORDER MY "GEMINI MAN SECRETS" GUIDE?
Click this link here and when you scroll down to the bottom of the page click "ADD TO CART." Once you complete your order, you will gain INSTANT access and can start understanding your Gemini man within minutes. You now receive 4 amazing guides PLUS my "VIP CONSULTING" to ask me anything — all for the price of just 1 guide! My Gemini Man Secrets helped THOUSANDS of women like you…understand, attract AND keep their special Gemini man, I'm sure it can do the same for you, too.
---
---