Are you hopelessly in love with a Gemini man but aren't sure what you can do to get him to finally tie the knot with you? Here are some techniques you can try to help you to get him to see why he would want to marry you.
Show Him you are a Prize
If you are already high energy and motivated for success then you'll probably already have his heart in your hands like putty. Keep showing him that you do not NEED him; you simply choose him.
By being independent, intelligent, and clever with your time; you'll show him that you can stand on your own two feet as well as spend quality time with him. He is the type of guy that needs constant stimulation.
That means he needs new and interesting things to keep his eyes on the prize. Giving him goals to work toward will excite him and make life seem like a big competition to win.
Debate (not argue) with him, show him your fiery passion in life. Basically being a strong woman who doesn't need a man to complete her is what the Gemini ultimately needs.
If you aren't really this type of woman; you may want to reconsider whether a Gemini is the right guy for you. He is highly motivated and wants a partner who is also this way.
Patience Paves the Way!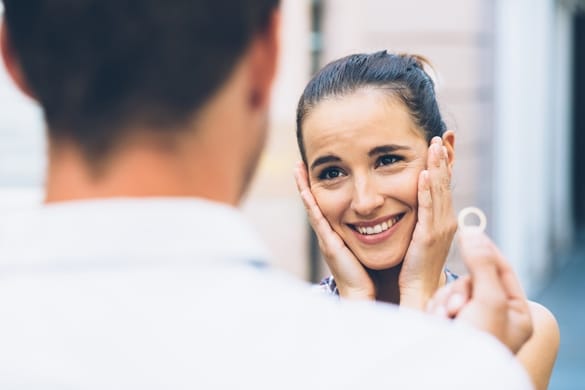 You absolutely cannot tell a Gemini to hurry up. That means you cannot rush him into anything he isn't ready to do. He knows whether he's emotionally ready for marriage or not and he's not going to be swayed to do it if he isn't ready.
That being said, you really cannot "GET" him to do anything he doesn't want to do. However; what you CAN do is show him that you're the right woman for him, give him some patience and effort.
Holding out for the man you love until he's ready to emotionally take the next step is the only real way to get him to where you want him to be. I know it's not the most fun answer but it's the truth.
Trying to rush a Gemini man will only result in failure in the relationship and could actually make him want to run away from you. Do your best to remain cool, calm, and spontaneous.
Knowing what you want is good but you definitely want him to be ready to want it too otherwise resentment could arise.
Be Someone He Looks Up To
I mentioned the passion and successful endeavors before but honestly; the real way to get this man to commit to you further is to find things you can do or say that will inspire him.
If you can be a woman he looks up to and maybe decides to make you his muse in his music, art, or whatever he's into; then you know you've hit the jackpot with him. Gemini men will often use the woman of their desire as a muse.
As long as you keep your guy entertained, fulfilled, intellectually stimulated, and provide an exciting environment; you should be able to get him to commit a bit further than what he's been.
When you are able to share with him all the many projects you may also have in your life; he'll see that you are his perfect match and decide to take things up a notch. Really a Gemini woman would be near perfect wife for him.
However; there are a few other signs that will blend well with him. It's all in the ability to be free spirited, intellectual, busy, successful, passionate, and being able to embrace life as it comes.
Be More Spontaneous In Life
Gemini men do not like to plan anything as it feels a bit like premeditation. That happens to be a very boring way to live. He will make goals for himself which causes him to involve himself in several projects.
He may also not finish those projects but it felt good starting them though. Trying to plan things is very difficult when it comes to getting anything with this guy. He prefers to live one day at a time and take it as it rolls.
Be open to what life has to offer and you may have a better chance at getting him to become more serious about you. Watching you living life to the fullest will inspire him to do the best he can.
Once he figures out that you're his match in every way; he'll be more comfortable with possibly making you his wife. Again I say; take it easy and let him do it when he's ready.
It may take a long time but then again; he's random which means he could propose when you least expect it. It's also likely that he'll surprise you with it because he thinks it's more fun to catch you off guard.
This guy can be rather sneaky and doesn't want to do a proposal like most other guys. He'll do it on the fly and more like a spur of the moment. No kidding! He may wake up one day and go buy the ring and ask you that same day.
Be Supportive of Him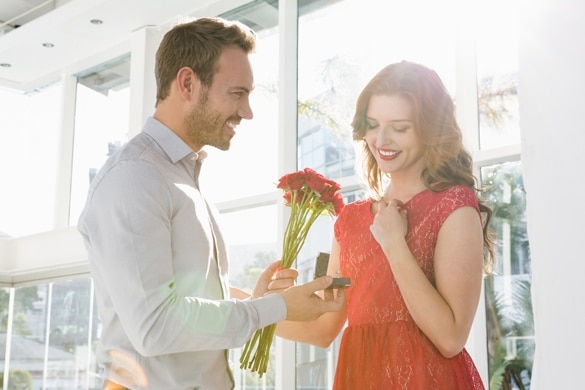 The more you are able to show him that you love him for who he is without expectation of change; the more you'll prove yourself worthy for him. He wants a woman who doesn't want to change him.
He wants a woman who loves him just as he is and will continue to be his support system. Show him you are his rock, his inspiration, and his partner in this life. He will respond with lots of love.
The worst thing you can ever try to do is push him to commit faster than what he's actually ready. Either he'll respond badly to it or he'll run away thus leaving you behind. Click here to learn more about what the Gemini man wants.
I hope this article helps you to get what you want from your Gemini guy and in a time frame that is comfortable for you both.
Share your story (or situation) with our community in the comment section below (don't worry, it's anonymous).
Wishing you all the luck of the universe
Your friend and Relationship Astrologer,
Anna Kovach
HOW TO ORDER MY "GEMINI MAN SECRETS" GUIDE?
Click this link here and when you scroll down to the bottom of the page click "ADD TO CART." Once you complete your order, you will gain INSTANT access and can start understanding your Gemini man within minutes. You now receive 4 amazing guides PLUS my "VIP CONSULTING" to ask me anything — all for the price of just 1 guide! My Gemini Man Secrets helped THOUSANDS of women like you…understand, attract AND keep their special Gemini man, I'm sure it can do the same for you, too.
---
---