Are you hopelessly in love with a Gemini man but aren't sure what you can do to get him to finally tie the knot with you? Do you ever wonder how to get a Gemini man to marry you? 
Gemini man has an active and versatile mind. He grounds himself with information and facts. He likes to communicate.
Occasionally a Gemini man can be irritable and moody.  He is after mental challenges and when a Gemini man wants to marry you that means that you communicate openly and are not afraid to talk about your emotions.
Here are some techniques you can try to help you to get him to see why he would want to marry you.
What Does Gemini Man Wants In a Woman
Please note that Gemini men are dual in nature. Sometimes they are carefree and playful, other times are a bit pragmatic and critical. It is very hard to decide whether a Gemini man wants to commit or keeps looking.
You can expect him to change his mind a lot and this could be really tiring for you. One day he could be infatuated by you, the next this feeling starts to fade away so you'll never know where you stand with him.
If you are spending too much time with him or if you frequently text or call, note that he can slowly lose interest in you.
A Gemini man is independent and is looking for a woman who values her personal sense of freedom. He wants time apart and even wants you to have friends separate from each other. His social life is his territory, always remember that!
Never let him know you are planning a future with him! Let off steam, this guy doesn't want to feel pressured in any way. Don't try to change his mind, just live in the moment with him!
You need to stay open to change, be flexible because Gemini man changes his mind a lot.
3 Sure Signs A Gemini Man Wants To Marry You (Even If He Hasn't Said It Out Loud) 
He refers to 'you' as 'we'
That is clearly a sign that you matter to him. Even if he does it instinctively, it counts. This is one of the big signs that he loves you and believes he has a future with you.
When a Gemini man starts referring to you as 'we', he will want you to meet important people in his life, followed by the phase of prioritizing your needs and wants, so one thing unravels the other and everything leads to scheduling a wedding day.
He talks about kids with you
This means he has already developed a close bond with you. You can relax and hear the wedding bells in your head! All seem to be moving in the right direction.
Gemini men are fun and wonderful with kids. We live in a modern world where the decision to have a kid is increasingly optional, so when your Gemini man says he wants kids with you, know that he means it!
He starts to make big commitments
(buying a house, opening a joint bank account, etc.)
Ladies, this is huge! If he doesn't hesitate to share his plans with you and then actually implements some of his ideas, that is a clear indication that he considers you to be a part of his life for 'to have and to hold', even if he didn't say it out loud.
When this happens, you can be sure that his primary focus will be on providing you with the life you deserve.
How To Get A Gemini Man To Marry You In 5 Easy Steps
Show Him You Are A Prize
If you are already high energy and motivated for success then you'll probably already have his heart in your hands like putty. Keep showing him that you do not NEED him; you simply choose him.
By being independent, intelligent, and clever with your time; you'll show him that you can stand on your own two feet as well as spend quality time with him. He is the type of guy that needs constant stimulation.
That means he needs new and interesting things to keep his eyes on the prize. Giving him goals to work toward will excite him and make life seem like a big competition to win.
Debate (not argue) with him, show him your fiery passion in life. Basically being a strong woman who doesn't need a man to complete her is what the Gemini ultimately needs.
If you aren't really this type of woman; you may want to reconsider whether a Gemini is the right guy for you. He is highly motivated and wants a partner who is also this way.
Be Patient
You absolutely cannot tell a Gemini to hurry up. That means you cannot rush him into anything he isn't ready to do. He knows whether he's emotionally ready for marriage or not and he's not going to be swayed to do it if he isn't ready.
That being said, you really cannot "GET" him to do anything he doesn't want to do. However; what you CAN do is show him that you're the right woman for him, give him some patience and effort.
Holding out for the man you love until he's ready to emotionally take the next step is the only real way to get him to where you want him to be. I know it's not the most fun answer but it's the truth.
Trying to rush a Gemini man will only result in failure in the relationship and could actually make him want to run away from you. Do your best to remain cool, calm, and spontaneous.
Knowing what you want is good but you definitely want him to be ready to want it too otherwise resentment could arise.
Be Someone He Looks Up To
I mentioned the passion and successful endeavors before but honestly; the real way to get this man to commit to you further is to find things you can do or say that will inspire him.
If you can be a woman he looks up to and maybe decides to make you his muse in his music, art, or whatever he's into; then you know you've hit the jackpot with him. Gemini men will often use the woman of their desire as a muse.
As long as you keep your guy entertained, fulfilled, intellectually stimulated, and provide an exciting environment; you should be able to get him to commit a bit further than what he's been.
When you are able to share with him all the many projects you may also have in your life; he'll see that you are his perfect match and decide to take things up a notch. Really a Gemini woman would be near perfect wife for him.
However; there are a few other signs that will blend well with him. It's all in the ability to be free spirited, intellectual, busy, successful, passionate, and being able to embrace life as it comes.
Be More Spontaneous In Life
Gemini men do not like to plan anything as it feels a bit like premeditation. That happens to be a very boring way to live. He will make goals for himself which causes him to involve himself in several projects.
He may also not finish those projects but it felt good starting them though. Trying to plan things is very difficult when it comes to getting anything with this guy. He prefers to live one day at a time and take it as it rolls.
Be open to what life has to offer and you may have a better chance at getting your Gemini man to become more serious about you. Watching you living life to the fullest will inspire him to do the best he can.
Once he figures out that you're his match in every way; he'll be more comfortable with possibly making you his wife. Again I say; take it easy and let him do it when he's ready.
It may take a long time but then again; he's random which means he could propose when you least expect it. It's also likely that he'll surprise you with it because he thinks it's more fun to catch you off guard.
This guy can be rather sneaky and doesn't want to do a proposal like most other guys. He'll do it on the fly and more like a spur of the moment. No kidding! He may wake up one day and go buy the ring and ask you that same day.
Be Supportive Of Him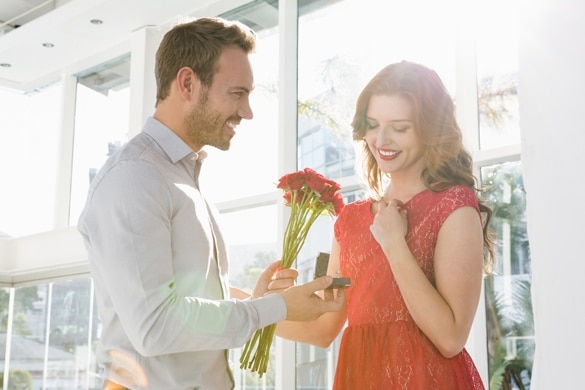 The more you are able to show him that you love him for who he is without expectation of change; the more you'll prove yourself worthy for him. He wants a woman who doesn't want to change him.
He wants a woman who loves him just as he is and will continue to be his support system. Show him you are his rock, his inspiration, and his partner in this life. He will respond with lots of love.
The worst thing you can ever try to do is push him to commit faster than what he's actually ready. Either he'll respond badly to it or he'll run away thus leaving you behind. Click here to learn more about what the Gemini man wants.
Gemini Man Marriage Compatibility — Who Is A Gemini Man Most Likely To Marry?
Gemini man & Libra woman.  Truly they can find some very deep love that can last forever if they truly want it. This is a very strong and powerful combination. The Libra woman is idealistic and so she is one that seeks to make real change in the world. The Gemini man isn't normally this way but his Libra lady love will likely inspire him to want to achieve more.
>> Read more about Gemini man and Libra woman love compatibility.
Gemini man & Leo woman. Both Gemini and Leo are very charming and so it's easy to see why they would be attracted to each other. Gemini man has plenty of charm while the Leo woman naturally exudes radiance. One of the best things about meeting someone new is having fun so this works well for the two of them as they've got plenty of possibility of fun and laughter between them.
Read more on Gemini man and Leo woman love compatibility here <<
Gemini man & Aquarius woman. Both Gemini man and Aquarius woman will need a fair amount of freedom and space. Luckily they both agree on this and so as long as they spend lots of time apart doing their own thing, they could actually make this a relationship worth keeping for the long haul.
Read more on Gemini man and Aquarius woman love compatibility here <<
FAQ On Gemini Man's Love Language
Are you struggling to figure out what to do about your Gemini man and how he feels about you?
Well, luckily for you I have compiled a list of questions that might come up in your relationship. Hopefully, this can help you navigate your relationship with him.
How To Tell If A Gemini Man Is Serious About You?
Gemini men aren't particularly picky when it comes to love and finding the right woman. If he manages to show up on your dates, opens up to you, asks to spend more time with you, this means that he wants you in his life.
Are Gemini Good Husbands?
Yes. Geminis are never possessive. They are sociable, not too passionate. They are not romantics but they are spontaneous and will aim to surprise you.
Are Gemini Loyal In Marriage? 
Gemini men come with very strong loyalty, although this may seem as a general misconception, it is actually true. Gemini men will do anything to make you happy but it also depends on how you play your cards in marriage. 
What Makes A Gemini Man Stay In Love With His Wife Even After Years Of Being Together?
Staying committed. Even though the Gemini man is independent, he does love it when his woman does things for him to show she cares and that she is committed to him. She recognizes small things that make him happy and shows him her dedication and love. 
Know If Your Gemini Man Is Right For You In 30 Days…
A Gemini man needs you to be supportive of his ideas and goals. He may seem a bit different but that's alright, you love him.
Standing by his side when he needs it will show him that you really do love him and that nothing will get in the way of that. 
Also, trusting him is crucial. Gemini men like to flirt a lot and tend to do it all of their lives. It's in their nature, but typically it's harmless. They do it because they love the reaction.
It makes them feel good about themselves. He wants you to trust him and not get jealous about his flirting. Just try to blow it off. If you are not the type to let it go then you could lose him.
The worst thing you can ever try to do is push him to commit faster than what he's actually ready. Either he'll respond badly to it or he'll run away thus leaving you behind. 
If you really want him to come running back to you… Scoop you up, shower you with kisses, and tell you what a fool he was for ending things… And how he now knows you ARE the woman he wants to spend the rest of his life with…
Then you need to understand EXACTLY how he ticks.
There is a simple system that takes only 30 days <<
You need that detailed guide that will show you how to draw him back to you like a magnet… So he realizes the beauty and joy you bring to his life is COMPLETELY irreplaceable.
You need to understand EVERYTHING you can about how his mind and heart work.
Don't make the mistake of following generic dating advice and risk losing your Gemini man forever.
Going "no contact" could be the absolute WORST approach you could use with him.
Find out what will REALLY work to connect with his heart here <<
Sending love, 
Anna