To understand why a Gemini man will stay loyal and committed to you, you first need to know how to get them to commit. A Gemini man isn't the easiest guy to pin down to a serious relationship. Gemini commitment is something that you basically have to earn.
If you are dating a Gemini guy and want to get more serious, what can you do to make sure that he stays committed? Today I am here to help you with just that, and here to give you some insight from my many years as a Relationship Astrologer on the seven reasons why Gemini men stay committed and interested. 
How To Get A Gemini Man To Commit
If you're still waiting for your Gemini man to commit, let me help you out and let you in on what he's looking for. Here is a list of things that he looks for in a long-term partner: 
An independent woman who has her own life and allows him to do his own thing from time to time. 
A woman who will not get jealous. She has to trust him, unless he shows her otherwise. He is a flirt and he always will be.
A woman who encourages him to spend time with his friends or do something for himself. Allow him to have his space. 
A woman who enjoys social events and is eager to go to do fun activities with him. He wants an equal who can keep up with him. 
A laid-back woman who will go with the flow. 
A woman who is excited to try new things and experiment in life. He loves keeping things fresh and exciting. 
Now that you know what he's looking for in a relationship before he commits, let's get into what you can do to ensure he sticks with the commitment and stays interested in you. 
7 Reasons Why Gemini Men Stay Committed (And Interested)
1. He Feels He Can Be Himself
When a Gemini man feels he can totally himself with you and never have to pretend he's someone else, that's when he feels most comfortable. When he feels at ease, he is more likely to stick with the commitment he's made.
Showing him that he doesn't have to prove anything to you, he will feel as though he's won the jackpot. And he will appreciate you for who you are in return.
Common ground is a very helpful tool. Compromise is a good thing, and if you know how to communicate, you'll be able to find a way for you two to make it work even when things seem rocky.
A Gemini guy is his own man, and he wants to keep that up. He wants to have his own freedom, his own life outside of you, his projects, his work, and his pride. 
Allowing him to have all those things without hindering his progress makes you the perfect woman in his eyes, and the one he wants to be with for the long haul. It will also help keep the Gemini man interested in you. 
2. Your Ongoing Loving Care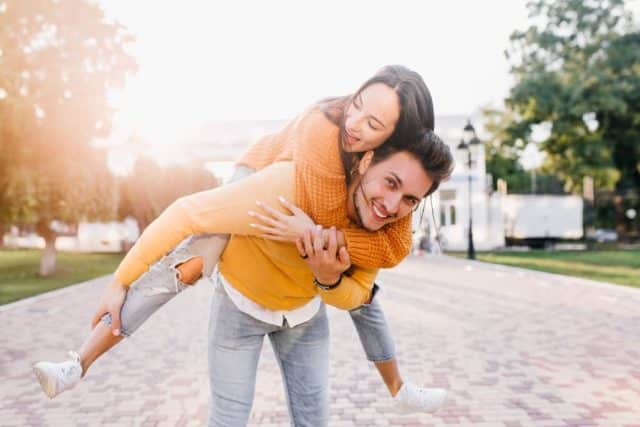 Even though the Gemini man is independent, he does love it when his woman does things for him to show she cares. Making sure he has his favorite coffee when he goes off to work or having dinner made for him sometimes when he returns.
You don't have to be at his beck and call, but when you do little things for him, he sees them as something bigger and he adores it. He will definitely keep his commitment thriving with you when he sees the you care you give.
Ask him how his day was, how work or how his projects are going, ask if he needs help, etc. I mean, there are plenty of things to say and do for him that will prove how much you truly support your Gemini man!
He wants you to show him support for what he does. It doesn't have to be major things though. It can be very simple and small, but it shows him your dedication and love. 
3. Laugh With Him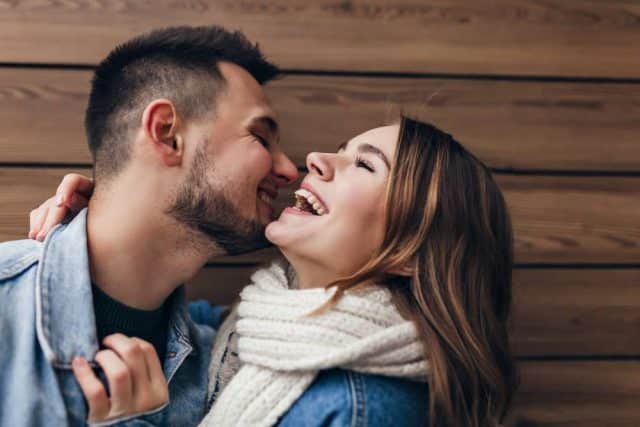 Before we get started – no, I don't mean you have to laugh at all his cheesy jokes! I do, however, mean that you should make sure you two have a good time together. Enjoy comedy movies or standup comic shows.
Do things that will make you both laugh. Sharing this high that comes from laughing will be something he'll keep with him in his memory. He will appreciate you and your humor.
He will love that you want to go out and have a good laugh with him. Better yet, look up some funny jokes to tell him yourself! He'll applaud your effort (whether your jokes are funny or not).
It's the thought that truly counts, and trust me – he'll get it. Yes, laughing at his dumb jokes from time to time isn't so bad either. Actually, Gemini men can have some pretty funny jokes!
It's a positive emotion you're feeling together and you two can carry forward with the future. It makes him want to stick with you and it keeps things lively between you. 
4. Never Change Who You Are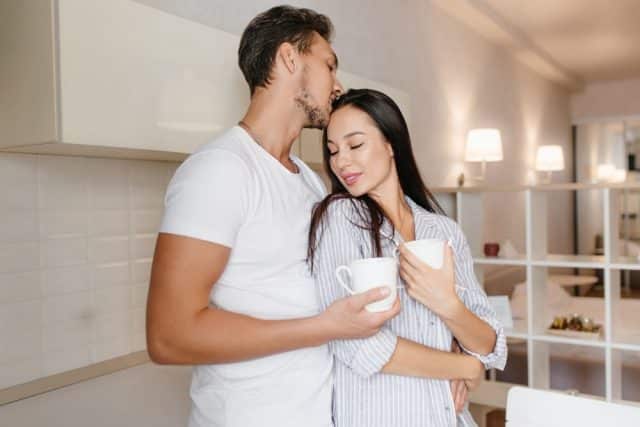 A Gemini man fell in love with you the way you were. So, stay that way, ladies! If you change, he may change as well… and that's not often a good thing. He wants to stay in love with the woman that charmed her way into his heart.
Try your best to stay who you are, sweet, charming, and loving. It's normal to grow and some change occurs whether you want it to or not, but if you keep yourself intact, he'll be happy.
Let him see you'll stay the same and stick with him for years to come. If you change, he'll worry that something is wrong and may look to someone else for comfort.
Try to relax your mind and stop trying so hard. His feelings are for you as you are, and so there is no reason for you to try to be any different just because you think it will please him!
If you weren't someone he liked, then he wouldn't be with you in the first place; keep that in mind at all times. He will always prefer you to be who you are. 
5. Staying Grounded & Very Patient
Gemini men do best with women who do not jump the gun or make assumptions. He works well with women who rather stay calm and wait for him to explain before having a reaction. 
This is what a Gemini man requires in a partner – and if this just doesn't sound like you, then it may not be the perfect match! If you've already been this way, then be sure to maintain it. He may sometimes test your patience and that is normal with a Gemini man.
Show him that he cannot break down your calm. Be optimistic. If you have to say something, wait until you are calm enough to make a sensible statement that isn't clouded by emotion.
It's important to not let your feelings get the better of you. Even if you see or hear something that makes you question him, wait to calm down before you talk to him about it.
It's possible he didn't do what was said or that he did something for a reason and instead of flipping out, you're able to stay relaxed enough to give him the benefit of the doubt instead of accusing him. 
This is the type of woman that Gemini man will stay committed to. He hates drama and jealousy. He won't want to stay with a woman who feeds in to either of these things. 
6. You Want His Advice
To show your Gemini man that you respect his thoughts, opinions, and intelligence, you can ask him for advice. Whether it's about something big or something small, he'll answer your query. 
When you do this, it lets him know that you have absolute faith in him. That's something he needs to feel with the woman he's committing his life with. 
He will stay with you as long as you're always showing him respect and support. Asking his opinion or advice makes him feel very special when it comes to you. 
Don't be afraid to ask him what type of shoes you should get for that saucy new red dress. He'll think, "wow, she wants my opinion?" He'll love this, where as other men may not care about stuff like that. 
Read next: 5 Ways To Spice Up Your Love Life With A Gemini Man
7. He Really, Honestly Loves You!
The most important thing to know is that if Gemini man has committed himself to you, then he really does love you and can see a future with you! You just need to keep affirming to him that he made the right choice.
As long as you can do that, he will not let you down. He will stay by your side. Don't forget yourself, and take good care of yourself and your relationship. 
Has your Gemini man stayed committed to you for years? What did you do that made him want to stick with you? I'd love to know! 
Share your story (or situation) with our community in the comment section below (don't worry, it's anonymous).
And if you're tired of being disappointed in love over and over again, and at your wits end… Then it might be a good idea for you to try something different. 
I have a new VIP offering on my website. I think you might find it really valuable and it will 100% transform your love life into something magical. What have you got to lose? Let me help you get the love life you have always dreamed of!
Wishing you all the luck in the Universe.
Your friend and Relationship Astrologer,
Anna Kovach
---
---