The Gemini man can be rather on and off at times. He's confusing and seems to fear commitment. Not all the time does he turn his nose up at the idea, but sometimes he definitely wants to continue to be free and do his thing. 
If you are crushing on a Gemini man who is divorced, then there may be some challenges… as well as some benefits! Let's take a look, shall we? Keep reading to learn the pros and cons of dating a divorced Gemini man. 
He's Skittish
You can imagine how skittish the divorced Gemini man is going to be. He's going to be afraid of getting hurt, or causing pain to someone else depending on how it ended. 
It's even possible for a Gemini man to have been married more than once. If that's the case, it's because he keeps carelessly jumping from one woman to the next. You really don't know what you're going to get with him.
A Gemini man needs to go slow, and if he doesn't, he will regret it and that's when things go badly and get cold. If you're going to date him, you will be the one who will have to be sure he doesn't move too quickly.
This will help you avoid from getting hurt as well. Take your time, get to know him, and ease into things. He will appreciate the fact you're not pressuring him or trying to push him into becoming serious so fast.
He may take years before he even gets involved with anyone seriously, if he's been really wounded from his past. It could cause him to want to be single forever (or so he thinks!).
Naturally, when a person meets the "right one," they reconsider their options and (seemingly) open back up again. The Gemini man is no different. If you're friends with him already, this helps give you a bit of leverage.
The benefits of him being this way is that he's more likely to be cautious in trying not to hurt you, which is excellent. Taking time with each other can make your bonder stronger and make it last. 
He's Focused On Having a Good Time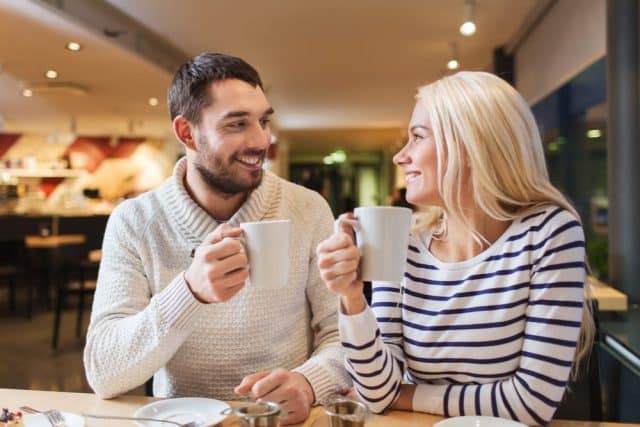 What I mean by this is that his priorities may be about enjoying his freedom, and this could be something he doesn't want to give up for a long time. He may just want to do the whole "friends with benefits" deal.
If you two haven't discussed dating, it might be smart not to dive into bed with him while still just friends. If you avoid sleeping with him, he'll assume you're alright with it and he may keep it that way for a long time.
You'll eventually want more and he may not. This is a fallback of a divorced Gemini man. He wants to play and be free instead of being tied down to someone again. 
It may also prompt him to want to play with other women besides you. This is why it's important to make your intention known to him so that you can both decide where you will go from there.
Again, unless you're alright with this sort of thing, then you need to make it clear that you aren't interested in being a friend with benefits in which you only have sex and hang out sometimes. 
It can quickly become a tangled web that you will find it hard to get out of once you develop feelings and he doesn't want to change anything. And then what will you do? How will you get him to give you more? You might not be able to.
The good news is that since he wants to have fun, you may be able to get him to date you without being too serious. You two can go do adventurous and exciting things together, thus bringing you closer (bit by bit!).
His Ex Is Still In The Picture
This is true for most signs in the Zodiac. This is especially true when there are children involved. He will always want to take care of his children, which will likely mean contact with their mother. 
No matter what his sign is, he's a father, so he's going to be responsible. And if he isn't –then this should show you that he's not the right guy for you. Who wants to be with a deadbeat dad? You deserve better than that!
Sometimes Gemini men stay friends with their ex, which can also cause problems with their new potential love interest. The ex won't like it, and the woman he's seeing won't either.
Though they are still friends, women who have been with Gemini men have a hard time letting go of him. He's the one they can't forget. Gemini men are notorious for staying friends with exes.
And it may not just be one ex you have to contend with… it may be even be multiple. You'll hear him on the phone talking to a woman and ask who it is. He'll tell you it's his ex, and you'll wonder why in the world he's talking to her.
In his mind, he thinks: how this could possibly cause problems? He's not the jealous type of guy typically and so he expects you to not be either. He wants you to trust him but yet he keeps talking to her (or them). 
While the idea of that is scary, think of it this way: it says something about his character if he's staying friends instead of holding grudges. That also means that he's going to treat you very well. He appreciates women.
Then again, there are some Gemini men that absolutely are flaky and not so respectful of a woman's needs. He may be so caught up in himself and what he wants that he ignores your needs. 
So beware, because this could go either way. Some women become best friends with his exes because somehow, they all seem to get along. That's not a bad thing either, honestly. 
He Needs Solitude
This is par for the course for the Gemini man. He already needs a sense of personal freedom – he doesn't want to be chained down. This will be even stronger when he's been married before.
He may go quiet or unresponsive for chunks of time. Undoubtedly, this will make you unhappy or confused. However, by reading my guide such as this should help you to understand this about him beforehand.
Knowing how to deal with it helps you to be more patient and understanding of what he needs. Eventually he will show you all the attention you desire, as long as you're giving him his alone time as well.
He may also involve himself in so many projects that he has a hard time penciling you in. At this point, you'll have to decide if he's worth the hassle. If he is, then you'll know what to do and how to do it.
And if he isn't, then you'll have to try to figure out a way to let go and let him move on. Throwing himself into a relationship that he has no time for is a way for him to avoid getting hurt or committing to anyone. 
Read next: 13 Gemini Celebs to Drool Over
He's More Sensitive Or Less Sensitive
Since Gemini is the twin of the Zodiac, he often has a different side of him emerging. You never know what side of the coin he's going to present to you at any given time. 
He may have learned to be more sensitive to a woman's needs and desires from having been married, or alternatively he may have learned to put his walls up more. There is no way to tell which one he'll be without taking it slow.
I do believe I've given you plenty of reasons to take things slow with Gemini man. You really have no idea which guy you're going to get with him and due to that reason alone, you have to guard yourself.
Be mysterious, don't always be available for him, make yourself exciting and adventurous, give him something to make him salivate for. The more into you he becomes, the more likely he'll give it a chance to become something more. 
The Gemini man is one of the more complicated beings of the Zodiac, and divorce can make him go any which way. It depends on how bad it was, how the divorce is going down, and how he was treated.
This seems to be true for most men, for sure. With a Gemini man, you have to be very careful with yourself more than anything else. He is capable of being a player or cheater. 
He's also capable of great love that lasts a lifetime. Until you know which page he is on, you'll need to get to know him as much as possible throughout a period of time. 
By the way, did you know that super saucy and sexy actor Johnny Depp is a Gemini man? We know he's been accused of being an abuser by his celebrity now ex-wife. Whether or not that is true is yet to be discovered. 
My guess is, he will wait a good long while before he commits to someone again. 
Did you date a divorced Gemini man or are you currently? What have you learned about him? Tell me all about it!
Share your story (or situation) with our community in the comment section below (don't worry, it's anonymous).
And check out my free compatibility quiz here to see what the stars have in store for you two!
Wishing you all the luck of the universe.
Your friend and Relationship Astrologer,
Anna Kovach