Are you considering moving in with your Gemini man? There are some things that you should know before you do as it may help you to figure out if it's a good idea for you or not. Here are some tips if you're planning on living with a Gemini man you love.

Personal Space and Time
These men adore having personal time and space. If you decide you want to live with your Gemini love, you're going to have to understand that he needs this to feel whole.
Giving your man time to go off into another room or let him leave the house alone to spend some quality solitude time will make him feel respected and loved by you.
This is not the type of man you can spend all your time with and expect him not to flip out. He really does require time alone or he will go nuts or he will leave; whether that means for the day or permanently.
If you can, try to get a two bedroom place or more. That way he can have an office or room of his own that he can go in and close the door for time alone. This will keep peace in the house.
Lots of Talking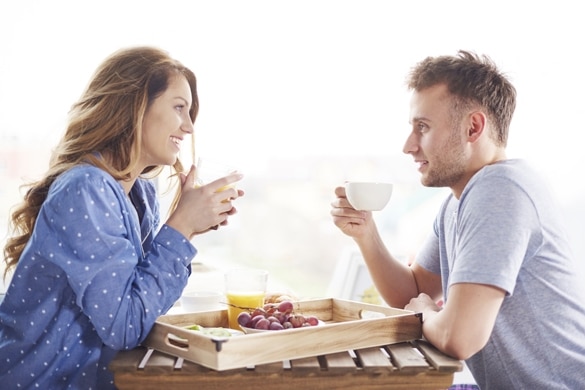 If you are the type of person that likes peace and quiet then the Gemini man may not be the best of a match. He likes to talk a lot. When you live with him, he'll always come up with interesting things to discuss.
If you are Ok with talking about random things he's learned through the week or the day, then you'll fit in just fine. You'll never feel bored with him around, that's for sure.
On the other hand, you may need to remind him that you also need some quiet or personal time. Again, that extra bedroom could prove useful for you both. You could take turns using that room for hobbies or quiet time.
He also likes being spontaneous so it's best if you can try to go with the flow more in your life. This will take you two very far and allow you to bond well.
Projects Everywhere
The Gemini man isn't exactly the epitome of cleanliness. He just doesn't have time to clean because all his jobs or hobbies are much more pressing. It's not at all unusual to see some of his projects strewn around the house.
He sort of goes off into his own world and starts working on what you may perceive as a mess and he perceives as his next big thing. This will be a compromise if you're a clean freak.
If you decide to take on an extra room then perhaps he can keep all this hobbies or projects in there as to not overflow the rest of the house. Try to nudge him in that direction if it bothers you.
Your Personal Rock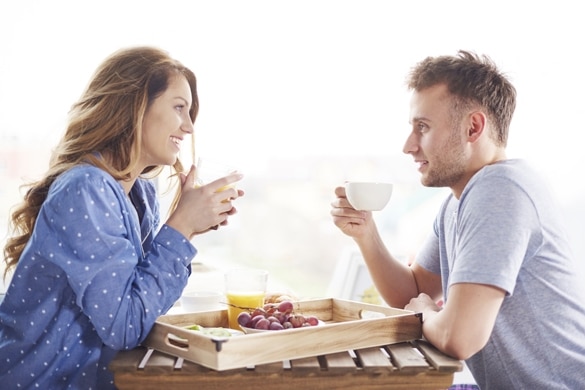 Your Gemini man will absolutely always be there for you. No matter what you have going on, he will know how to handle the situation at hand. If you need advice, he's happy to help you with that also.
Whatever your need may be at the time, you can rely on your Gemini man to be there for you. Though he may not spend a whole lot of time at home unless he works from home; he will still make time for you.
This is the kind of man that if your world is falling apart; he will drop what he is doing and come home to you to make sure you will be alright again. He doesn't want to see you hurt.
Bad Behaviors
The Gemini man is a notorious flirt. If you live with him and have friends over, do not be so shocked if he seems to be talkative and flirty with your female friends. It's just part of who he is.
Just because he's flirty and charming doesn't mean he's going to sleep with your friends or go behind your back with anyone else. He just feels alive when he can express who he is and maybe gets a flirty response back.
If you are confident in your Gemini man, he'll do what he can to not let you down. So as long as you understand that living with this man will occasionally piss you off, you may be good to go.
Absolute Trust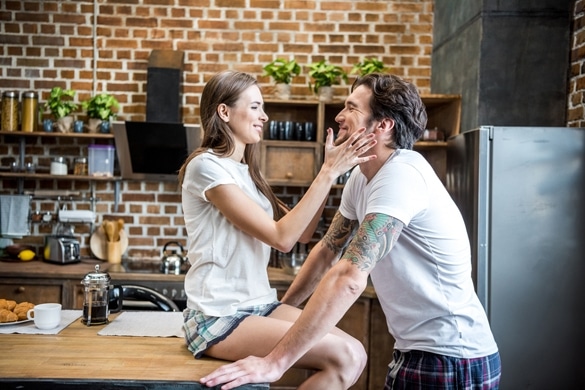 On both sides of this situation, there absolutely must be trust. Your Gemini man must trust you and give you the courtesy of letting you know when he'll be late, when he is going somewhere and if he has plans.
Likewise, you'll need to do the same for him. Not only that but you'll also need to allow him to have time to himself or with his friends when he wants it. Sometimes you may just want a quiet night at home with him.
While he may enjoy the occasional date night at home, this guy likes to go be out in the action. With that said, either you can enjoy and go with him or you can stay home alone but he will need to get out and about.
The most important thing for the Gemini man is loyalty, trust, and personal freedom. It's the only way he can truly thrive at being who he is. If he doesn't feel he has these things with you, he will not want to live with you.
Learning to operate smoothly may not be an easy process with your Gemini but once you are able to find the balance, you'll be able to achieve a very comfortable type of love.
Would you like to know more about your Gemini crush? I'd highly recommend that you check out Anna Kovach's book.  The Gemini Man Secrets is loaded with some really interesting information that could help you with your romance.
HOW TO ORDER MY "GEMINI MAN SECRETS" GUIDE?
Click this link here and when you scroll down to the bottom of the page click "ADD TO CART." Once you complete your order, you will gain INSTANT access and can start understanding your Gemini man within minutes. You now receive 4 amazing guides PLUS my "VIP CONSULTING" to ask me anything — all for the price of just 1 guide! My Gemini Man Secrets helped THOUSANDS of women like you…understand, attract AND keep their special Gemini man, I'm sure it can do the same for you, too.