You might be thinking: "So, what does a Gemini man like in a woman?" after dating him for a while. Do you do it for him? Or is he perhaps looking for something different? What qualities does a Gemini man look for in a woman and do you cut the grade?
So, you've found a Gemini man that you're hoping to snare in your web of love!  Inquiring minds want to know, though; what does Gemini man like in a woman? I happen to be able to answer this question for you.
Gemini men are not really that picky, but they do have certain qualities that they look for to appease their desires. Keep reading to find out what a Gemini man looks for in a woman.
What Do Gemini Men Like In A Woman?
Gemini men aren't particularly picky when it comes to love and finding the right woman. For him, variety is the spice of life, and he is open to getting to know any woman who intrigues him. He is definitely a bit of a flirt, which makes him so much harder to bag as a mate.
A Gemini man likes a woman who can tick all of his boxes – sounds simple, doesn't it? But with a Gemini man, you never know what you are getting because he chops and changes his mind as he pleases.
One minute he is all over you, and the next, he is off with someone else. Being with a Gemini man will seriously keep you on your toes, so if you are highly adaptable and looking for adventure then this is definitely the right man for you!
What a Gemini man likes, in short: A woman who is fun, intelligent, and intriguing!
What Qualities Does A Gemini Man Look For In A Woman?
A Brainy Gal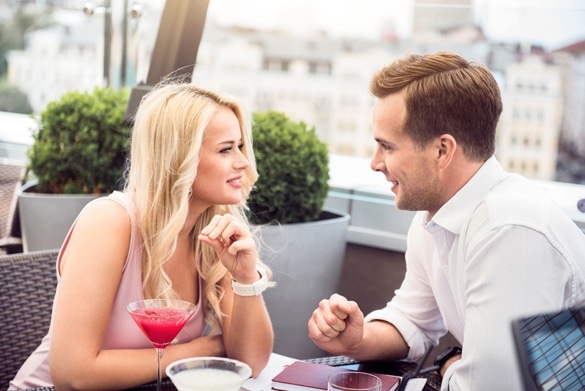 Gemini men really are more turned on by a woman's attitude, demeanor, and intellect. When he hears her speak with eloquence, he's drawn in and wants to know more. "How deep does this woman's mind go?" is what he wants to know.
He loves a woman who can hold her own in an intellectual conversation. Being able to talk about important matters going on in the world or about any of the topics he enjoys personally will definitely get his attention. Nothing gets him going quite like a stimulating conversation.
This man will totally be turned on by a woman with a big brain! He is someone who likes to talk a lot and requires a partner that can keep up with the conversation at hand. Do you have a pair of reading glasses handy? Put those on and see how he reacts, he finds this oh, so sexy!
As silly as it sounds, glasses can often look intelligent to Gemini men, and he would definitely prefer the naughty professor or scientist than the playboy bunny. That's just how he rolls. Brains over beauty any day for a Gemini man!
Brainy ladies summarized: a Gemini man cares about intelligence above everything else! If you have the smarts, then you are well on your way to making him yours.
Independent Lives
Gemini men are attracted to women who do not need them. They do not appreciate women who are clingy, needy, or high maintenance. He likes women who can take care of themselves and do not need a man.
He will want to be wanted but not so much needed. Don't get me wrong though; if you have a problem and need his help, he'll be there for you. While he doesn't mind helping, he doesn't want to have to rescue you constantly. He needs to know you can take care of yourself.
This man will want a partner that can be free to do her own thing with her friends and he is free to spend time with his friends. He will also want to have time to himself. A woman that will match him gives him this freedom.
He wants a partner that is more his equal than anything. Truly he likes having quiet time alone or out being social without his partner. It doesn't mean he doesn't like or love you. It's just normal for him to be apart at times. Being apart can certainly make the relationship a lot more exciting!
Independence in a nutshell: A Gemini man wants you to take care of yourself, he isn't looking for a needy partner, be your own woman!
Fun & Excitement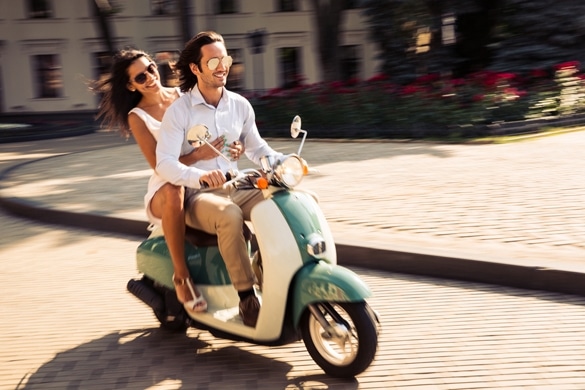 The Gemini man always seeks pleasure, spontaneity, excitement, and fun. Boredom is his mortal enemy. If he starts to feel boredom coming on, he will do whatever is necessary to squash it.
This means he really likes having a partner who will help provide him with some fun in his life. Being random and going to do things like skydiving, hang gliding, zip-lining, or any other fun thing will surely get his attention
He loves someone with a quick wit and is able to laugh a lot. Gemini typically has a good sense of humor and will try to make you laugh as much as he can. He will also appreciate it if you can pull off making him laugh.
Stimulating this man in whatever way you can will ensure his interest in you. Unless his mood changes and he decides that he wants something different. Gemini is very back and forth with their moods.
The lowdown on being fun and exciting: A Gemini man hates boredom, and needs someone who can adapt and keep up with him. Life needs to be exciting for a Gemini man to be happy!
Going With The Flow
The Gemini man is very random himself, and so he prefers someone who can go with the flow of whatever changes he may bring her way. He changes his mind often as he's the indecisive type. This means he may say you're going to one place and end up at another instead.
As long as you can go with the flow of his many changes, you can hold his interest. It may be best you don't try to make any real solid plans with him, as he could flake out on you. It's not that he wants to be a jerk, it's just how he operates.
He just really changes his mind so often that he may decide he doesn't really want to go do what you've made plans for. He's into doing what he wants and so if you do make plans, you should make sure they're tentative instead of ironclad.
The more open and spontaneous you are, the more he'll likely be interested. Finding new ideas, new hobbies, or new things to talk about with him is a good way to get the ball rolling with the Gemini man.
If you're struggling to be spontaneous with a Gemini man, I strongly recommend checking out my 30-day Gemini Man Love Challenge… It will set you on the right path with your hot Gemini guy. 😉
Going with the flow, the reasons: Being adaptable is a Gemini's secret weapon, however, you need to be able to keep up with this. Don't be too attached to your plans because they can change in an instant!
Unpredictability!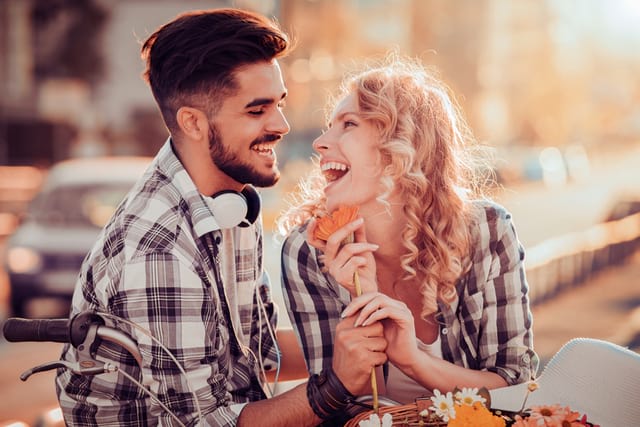 Remember, I mentioned he likes to be spontaneous. Try surprising him sometimes. You can show up at his place with a trench coat with nothing underneath. This will excite him greatly, no matter what your shape is.
Send your Gemini man a gift such as tickets to the latest action or fantasy movie that's out. Whatever it is that you figure out he is into, buy gifts that are geared toward this. He'll really like it and find it considerate as well as sweet.
Gemini men love to be adored and appreciated. It gives them validation that they are all that and more. Even if most of it is in their own mind, their partner showing them appreciation gives them the nice ego boost they require.
You can also send him a random naughty or brainy text that will excite him for the day. Don't expect a reply but if he does, leave him hanging for a while to let him enjoy the mystery behind it.
This is just one of what a Gemini man looks for in a woman. The other things listed are also important. Take note because these are something you should be aware of.
Being unpredictable, the short of it: Keeping a Gemini man on his toes will create the best atmosphere for him to fall in love. He abhors the predictable!
What Does A Gemini Man Find Physically Attractive?
The General Vibe You Give Off
Good news, Gemini men don't actually have a particular preference for women! Remember that this guy is two different men in one. That means he likes a variety of women, in different shapes or sizes. Anything goes with a Gemini man; he likes what he likes and that is the end of it!
As long as you look nice and well kept, your personality will win him over more than anything else. You've got to be interesting or he's going to lose his excitement over you. Boredom is a Gemini man's worst nightmare!
If you can wear your style to represent you, he'll love it. He loves independence and free-thinking women. Your whole outlook will determine what you look like to him. Standing out from the crowd and grabbing his attention will also make his heart flutter.
What I can say is that he's attracted to beautiful women and so he will look at the totality of you. He looks for your inner beauty, which will in turn enhance your physical beauty.
He will look at your eyes while you're talking, he'll search your face for how you respond to things he says, and he'll watch you laugh. To him, this is a beautiful thing!
And no, I'm not kidding. You could be wearing sweats and have your hair pulled up, but once you talk to him, he will see who you really are and that is when he can determine his attraction to you.
Women who are smoking hot but have no inner content will catch a look, but they aren't who he'd want to be with because he sees them as shallow and not worth his time or effort. Be yourself!
Why your vibe is so important: A Gemini man will really take notice of what you put out into the world! He is all about the vibes, so make sure yours are good!
Related: Gemini Man Turn Ons: 5 Things He Really Loves in a Woman
Careful Clothing Choices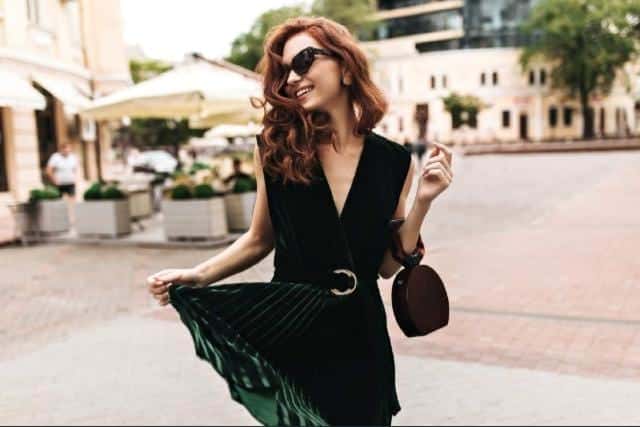 You now know that the Gemini man doesn't place too much significance on what you're wearing, but subtle hints will make the difference. For example, wearing his favorite color could spark his interest. Find out what his favorite color is then when you see him again, wear it.
Wear that color every time you see him until he takes you out. Flirt like crazy with him. Wink at him, touch his hand and wear a pleasurable scent. These things will stick with him.
If you go to his place, 'accidentally' spill something on your top. Water probably is best because you won't get stained. Ask him if you can borrow a t-shirt. He'll gladly oblige.
This man will go gaga over you wearing his t-shirt. There is nothing sexier. This is especially true if it ends up being one of his favorites. When you do this, you should wear a skirt or shorts. Hopefully, his shirt will be big and loose on you (you could even change your shirt in front of him with a sexy bralette or tank top underneath!).
This helps him grow his physical attraction to you. He'll now imagine what it would be like to take that shirt off of you. I will say this, many Gemini men enjoy breasts…
A quick look at clothing choices: Grab his attention by wearing his favorite colors and wearing the clothes he compliments you on!
All Shapes And Sizes
Much like the Scorpio man, the Gemini man loves women in all forms. He isn't looking for any particular trait in a woman physically over another. It depends on each individual guy and each individual woman.
Some Gemini men like women that have lots of curves. However, if he meets a woman who is thinner and has an outstanding personality, then he may find her more attractive.
Gemini men love all women, essentially. He isn't picky when it comes to physical qualities. That being said, he's looking for her inner beauty more than anything else.
He does appreciate a woman's physical form. Don't get me wrong when I say he prefers her inner beauty. He will still absolutely enjoy a woman's form and how she presents herself.
He just isn't hung up on any particular physique. This means that if you're trying to lure in a Gemini man, then you're going to have to use other tactics than worrying about your body.
Shapes and sizes, the low down: A Gemini man loves women of all shapes and sizes. The physical just isn't that important to him, it is your brain that matters!
Your Confidence Needs To Shine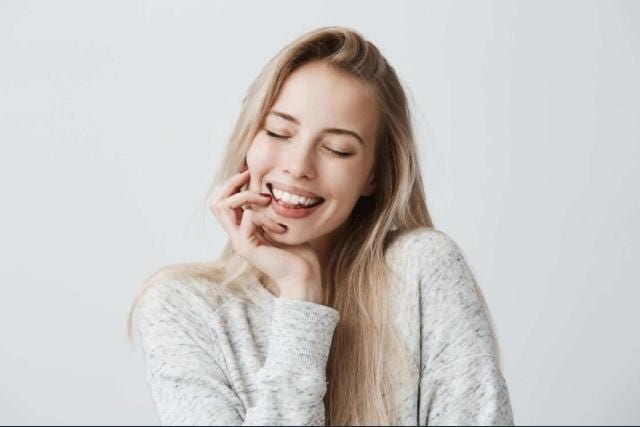 A Gemini man is big on a woman having confidence. This is a HUGE turn-on for him. If you can flaunt yourself with what you've got, he'll love it! No matter whether you're a larger woman with curves or you're a small woman who has petite features.
The confidence you present yourself with will make you look absolutely sexy and will entice the Gemini man. Remember this: desperation is a stinky perfume while confidence is an aphrodisiac!
This is one of those times where I tell you to "work it, girl!" Wear something sexy and shake what your momma gave you. The Gemini man will find you hard to resist.
Do not confuse confidence with ego, though. No one is attracted to someone who thinks too highly of themselves. Knowing you are beautiful is sexy. Thinking you are the hottest woman ever is a turn-off. See the difference?
Confidence, why it matters: A Gemini man just wants to be with someone who knows she is beautiful! Confidence is a major turn-on for him!
The Type Of Woman That Steals A Gemini Man's Heart
The most famous Gemini man of our generation has to be Kanye West. This man is really out there with his ideas and philosophies. He is certainly one of a kind! He found love with Kim Kardashian and it is easy to see why.
Kim is the perfect example of what a Gemini looks for in a woman. Yes, she is absolutely gorgeous, but she also is an incredibly successful businesswoman and has a very strong mind of her own.
No wonder inquisitive and curious Kanye took to marrying her. Although their marriage didn't last, it is easy to see where the attraction came from in the first place. Kim is confident, intelligent, and determined to succeed.
A match made in heaven for any Gemini gentlemen. You can just see why Kanye chose to marry her!
The type of woman a Gemini man likes summarized: Google a couple of your favorite Gemini male celebrities and look at the type of women they usually go for. This should give you an idea of what to enhance in your personality.
How To Attract A Gemini Man
Attracting a Gemini man is actually quite easy! All you really have to do is be your spunky self and let your true personality shine. Be flirtatious and open-minded, show him that you are interested in dropping subtle hints, and then back away and give him some space.
A Gemini man absolutely loves the thrill of the chase, so if you can keep him guessing he will be putty in your very capable hands. Keep yourself busy by doing fun and exciting hobbies, because this will certainly help your Gemini man to keep coming back for more.
Always play up your smarts by being super witty and engaging with your conversation. Make your Gemini man's mind explode and he will quickly recognize that you are a worthy match for him.
Talk to him, get to know him, and always depend on your interesting conversation to help the connection to grow. If you're a good conversationalist, then you definitely have this in the bag!
How to attract him in a nutshell: Let your personality shine, don't be shy, and always remember to be yourself!
I do hope that this has helped you answer the question "what does a Gemini man look for in a woman?" I know this can seem confusing when you don't know him well enough.
As a friend he's flirty with you but at what point can you tell he likes you for more? Knowing what a Gemini man looks for in a woman really helps you to get closer to an answer.
Is he into you?
Are you the Gemini man perfect woman? Let me give you a little shortcut to becoming one… Read on 🙂
Your Gemini man will be yours in 30 days (or walk away)…
Are you frustrated with how slowly things are progressing with your Gemini man?
Do you wish you had a magic ball to see into the future to KNOW for sure if he's "The One" for you?
Are you getting tired of trying to figure him out?
Well… I have fantastic news for you!
There is a simple system that takes only 30 days…
And it will draw him to you like a magnet and get him to fall deeply in love with you…
Or you will know for sure that he ISN'T your soulmate so you can move on.
This powerful program will give you everything you need to know for sure if your Gemini is your forever guy.
He WILL respond quickly to this approach if he IS the one for you.
And if he doesn't, you will know in 30 days so you don't waste another single minute of your precious time.
Gemini men can be lost in their ways.
And they can leave you waiting and wondering for a VERY long time!
I don't want you to still be in a holding pattern with him a year from now.
This is EXACTLY what you need to get him to commit quickly.
And if he doesn't…
You'll know he isn't the right man for you and you can set him loose so you can find your true soulmate.
So no more waiting around.
No more playing it cool.
Get your Gemini man to step up or move on.
xoxo, 
Anna
---
---