Are you really interested in and talking to a Gemini that doesn't live near you? There are some things that may come in handy if you want to try to maintain this relationship over time. Having a long distance relationship with a Gemini man may appear quite a challenge at first, but you may also enjoy it.
Independence
The Gemini isn't too much different in person than they are long distance. These are men that really love their freedom. By having you at a distance is actually to their advantage as it gives them space they crave.
Even if you are planning to someday move to where he is or he moves to where you are, he will still want his own personal space. Just make sure that you keep him interested.
Try to keep sending him things that will make him think of you. Don't be too aggressive though as he prefers to be the one to do the pursuing. You just need to occasionally send a sweet text to let him know you are thinking of him.
You could write him a hand written letter to update him on how things are going with you and what all you've been up to. He'll love to hear how busy you are as it will let him know that you are a person that loves to stay busy like he does.
Getting to know you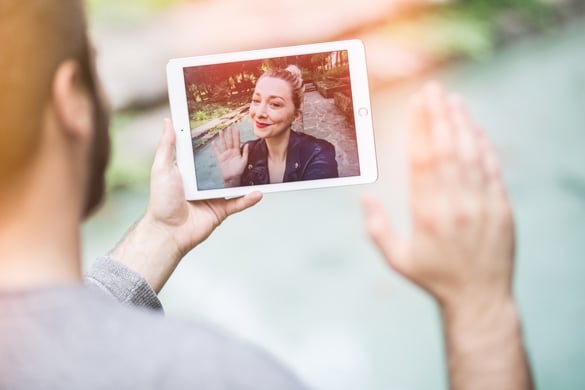 The Gemini man is one that likes to take his time so being long distance may help with that process. It gives him time and comfort in knowing there is no hurry to commit or to live together.
This will also allow him to work at getting know you. Make sure you don't tell him everything there is to know about you up front though. He likes to slowly unravel the mystery that is you.
Just give him bits and pieces over time. He'll appreciate the puzzle and it will keep him stimulated enough to want to see where things will go with you. Sending him a selfie of yourself may entice him and make him smile.
Remember not to do it too often though as it will go from being exciting to boring really quickly for a Gemini man. He likes to keep things fresh and spontaneous.
Mailing Gifts
In getting to know your Gemini man, you could send him small gifts that get his motor revving. Sending him gift cards for a coffee place local to him or to a book store would make him feel you're very thoughtful.
If there are things he is interested in and tells you, send him books about the topic or perhaps even magazine. Whatever you can find that would be useful or pragmatic to his love of knowledge.
You could also send him a pair of your panties showered with your perfume. This will excite him, he'll want to know more, and it will provoke him to call you. Be ready for some naughty talk when that happens.
Keeping a rapport between you is very important. You could start to work at the sexual side with him with phone calls including talking about your biggest fantasies. He will enjoy this on deep levels and will make understand how exciting you actually are.
Spontaneous Visits
Gemini men are often erratic and have mood swings. They also like to go with the flow much of the time. By you taking time to carefully plan out a trip to visit him without him knowing will be highly stimulating for his senses.
You could show up on his doorstep with one of his favorite foods in hand. He will be shocked and yet very intrigued by you pulling this off in spectacular fashion. He really loves a woman that is spontaneous.
Your Gemini man is certainly not going to pass up the opportunity to surprise you with a visit either. If he shows up at your door or your job suddenly, you'll be surprised but you'll also feel very adored.
When a Gemini man is really into you and wants to have a relationship, he will do things like this for you as it's his way of being closer to you and making sure that this may be going somewhere special.
Interesting Phone Calls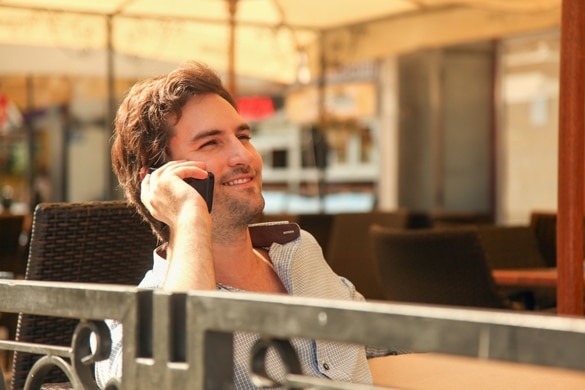 When your Gemini man calls you or you call him, he wants to talk about things that are really intriguing. If you get to know him, you'll know what he is passionate about in his life.
This should make it easy for you to do a little research and talk about those topics. However; he will also be very happy to hear about your own interests and goals in life. He ultimately wants an equal partner that is driven.
Discussing your desires in life will be ideal for your Gemini man. This helps him to get to know you and it also helps him to understand that you will not be the type of woman who always needs to be at his side or sitting around at home.
Gemini men do not like to be bored in any way. So there always needs to be really fascinating things to discuss between you. You could even discuss possible things you can do together next time you are able to visit with one another.
Keep an open Mind
Gemini men are normally very flirty men. When you are not around, do not be shocked if you find out about him flirting with others. If you are at a distance, know that he is doing what amuses him most.
If you trust in your Gemini and your relationship has become committed, then there really isn't too much to worry about as he'll likely remain faithful even if he does flirt. However, if you are not yet committed; in his mind he's still single.
If you met on a dating app and you still see him on it using it actively, he isn't committed to you yet and probably will not shut if off until you two have discussed exclusivity.
Never assume that the Gemini man is committed to you without you actually talking and agreeing this is the case. Otherwise you will end up hurt and left wondering why he does this.
These are just a few things about the Gemini man that you should know. I do have much more in the book that I wrote about them. Gemini Man Secrets is my source of helping you to get to know just about all there is to know about this mysterious guy. You may want to check it out!
HOW TO ORDER MY "GEMINI MAN SECRETS" GUIDE?
Click this link here and when you scroll down to the bottom of the page click "ADD TO CART." Once you complete your order, you will gain INSTANT access and can start understanding your Gemini man within minutes. You now receive 4 amazing guides PLUS my "VIP CONSULTING" to ask me anything — all for the price of just 1 guide! My Gemini Man Secrets helped THOUSANDS of women like you…understand, attract AND keep their special Gemini man, I'm sure it can do the same for you, too.
---
---