Are you hot and bothered thinking about a certain Gemini guy but are wondering what his hot spots are? Want to turn him on as much as you can for a rewarding experience? Here are some helpful hints for you.
Hands and Fingers are Key
In a previous article; I mentioned how turned on a Gemini man is to a woman who has well manicured fingernails and hands. This is actually what turns him on about his own body as well.
As you can imagine, doing things to his fingers or hands will be what gets his juices flowing and will make him want to do what he can to pleasure you. What do I mean by this?
You try taking his hand and running his finger along your lips very slowly and gently for a minute or two then start to lick his fingertip. Next, you'll insert that finger into your mouth and slowly pretend it's his penis.
This man will melt into a puddle right before your eyes. If you want to keep the eroticism going; take his hand and start touching parts of your body very slowly. Start with your face, down your neck and into your bra to cup your breast.
Kiss him while he's cupping your breast. He'll barely be able to contain himself feeling your breast in his hand while your tongue is in his mouth. Stay that way for a few minutes.
Then you'll slowly remove his hand and run it down the small of your back onto your bottom for a few minutes while you're still kissing him. Then finally, you'll bring his hand around to the front onto your lady parts.
Let him figure out what he wants to do there. He may want to finger you a bit and then either put it back in your mouth or in his. Either way, you've got one hell of a sexy scene going on.
Take Your Time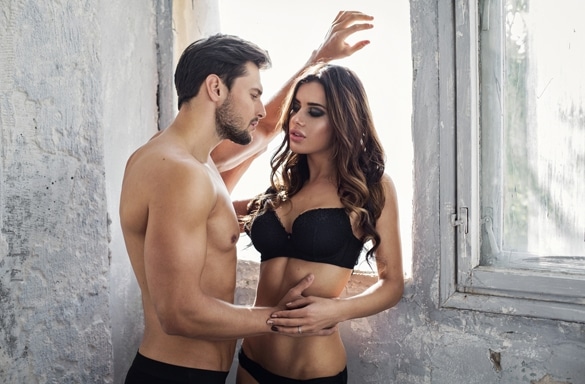 By no means do you want to hurry to the finish line. Just make sure you incorporate lots of play with his fingers and his hands. They are directly linked to his penis.
Basically anything you do to his hands or fingers will feel like they're being done to his penis. So be sure that you tease him a bit. He's a sucker for excitement and doing new things.
You can creatively come up with new ways to thrill him via using his hands and/or fingers. The more creative you get; the more he'll be into it and be willing to thrill you in return.
He has to have variety so try to keep your mind open. He isn't against three ways or group sex so there is always that as well. He likes to watch so you could have his finger in your mouth while another man is entering you.
There are endless possibilities you can do with Gemini man. It just all depends on what you like and what you're willing to do to keep things stimulating. He needs to have it or he'll get bored.
When I say take your time, make the tension last as long as you can. It will help draw out the pleasure so that when you are both ready; you'll release all that passion together.
Variety is the Spice
As I mentioned in the previous paragraphs; he loves a variety. Even just watching you kiss another woman while putting his finger inside you would drive him insane sexually.
You could put chocolate syrup on is fingers and suck all the syrup off one at a time. I wouldn't be surprised if he orgasms while you're doing this without even touching his throbbing member.
You could try making out with another woman while allowing him to explore both your bodies with his hands. You could make that the rule, hands only. He'll take you up on that challenge!
This man has no jealous bone in his body so you could suggest just about anything and he'll be up for it. He isn't the type of guy that wants routine and consistency. He wants new and exciting every single time.
That may seem like a lot of work for you but if you think you can manage it; then by all means; you're probably the right one for him.
He will want to help you fulfill all your fantasies. He doesn't really have much in mind fantasy wise typically but he's all too happy to help others fulfill theirs. Tell him what turns you on; it'll turn him on.
Make suggestions, play games, do anything new and different that isn't too over the line for you. He's up for whatever it is you want to do.
Mirror Action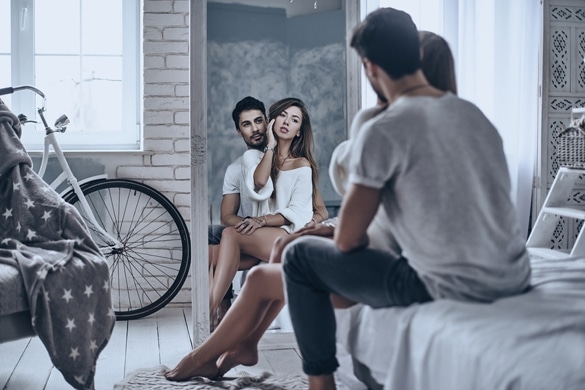 Aside from his erogenous zone being hands and fingers; his visuals are also important. He gets really turned on by watching what he's doing to you. Mirror work really well for this.
You can buy cheap, long mirrors that you can keep in the closet until you're ready for "sexy time" and strategically place them around the room. Try not to limit yourself to the bedroom. He will want to do it everywhere.
Pick your room, set up the scene, and get the mirrors out. Try to place them in places that he can watch what he's doing to you. He'll also rather enjoy watching what you do to him.
He's a voyeur and this will be really exciting for him. The visual will absolutely stimulate him beyond your wildest dreams. Want to have the most mind-blowing sexual experience of your life? Follow the steps I've given you.
Gemini men love to please their woman but they have to have the proper motivation to get that kinky and free. If you want missionary position all the time; he'll get very bored.
It may work for awhile if you have a mirror but even then; he'll lose interest. Keep it hot, keep him guessing, and keep him stimulated and he'll give you what you want. Click here to learn more about what Gemini men's turn ons are.
I hope this helps you have some sensual experiences with your Gemini guy.
Share your story (or situation) with our community in the comment section below (don't worry, it's anonymous).
Wishing you all the luck of the universe
Your friend and Relationship Astrologer,
Anna Kovach
HOW TO ORDER MY "GEMINI MAN SECRETS" GUIDE?
Click this link here and when you scroll down to the bottom of the page click "ADD TO CART." Once you complete your order, you will gain INSTANT access and can start understanding your Gemini man within minutes. You now receive 4 amazing guides PLUS my "VIP CONSULTING" to ask me anything — all for the price of just 1 guide! My Gemini Man Secrets helped THOUSANDS of women like you…understand, attract AND keep their special Gemini man, I'm sure it can do the same for you, too.
---
---