Are you a Capricorn woman interested in winning the heart of a Gemini man? You've come to the right place then. Learn about the Gemini man with the Capricorn woman love compatibility, how your signs line up, and how you can draw him in.
The Gemini man is light hearted and fun. The Capricorn woman is typically very serious and at times has a hard time laughing. She takes her work seriously, her life, and her relationships. It may take her Gemini man to make her really laugh at his intellectual jokes. It IS a possible match if he can get her to lighten up a bit. She may not like his "live in the moment" philosophy.
She likes to plan ahead and make sure everything is where it should be. While these two may be attracted to each other's brains, they may not fit each other's lives in other ways.  What draws them in may not be something that lasts a lifetime. The initial meeting is exciting because they sort of "get" each other. That is; until they really know one another.
Dating between the brains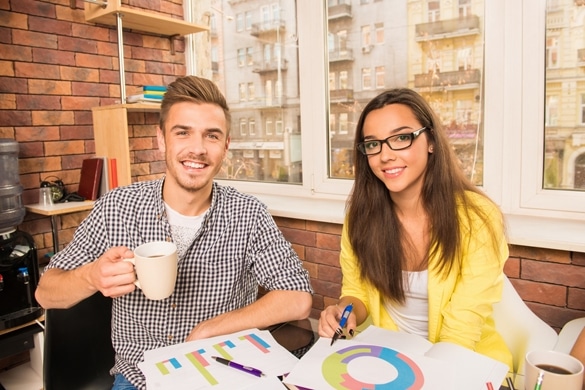 Both of these signs are very intelligent and tend to do very well in any type of work that they do. However, they have very different approaches in their life. Capricorn women always are working toward security and making sure that everything is going to work out the right way. They at times can find themselves being workaholics.
Gemini can almost relate to this because he is the type to have many irons in the fire and sometimes can take on more than he can actually handle. So the two of them can very well understand each other when it comes to the importance of work and making their careers work well for the future. However; when they go home, it's a different scenario.
The Capricorn woman is more of a no-nonsense type of gal while her Gemini man is more like a big child. She typically will not want to raise her mate.  She would like her match to be more equal and at her maturity level. So this could be an issue between them that would have to be worked on.
If this Gemini man and Capricorn woman could commit to each other long enough, they could discover some amazing things about each other that make them want to stay for the long haul. So there IS a possibility for this match to work out. It requires patience on both their parts.
Uneventful Sex
Sadly, the bedroom holds no true treasures for this match. The Capricorn is deep and wants her sex to reflect her depths while the Gemini man wants to keep things light and lively. Capricorn woman wants to connect on a very spiritual soul level which isn't something that Gemini is excited by or is willing to do. He doesn't understand it very easily.
These two could work it out and find their way if they give it more time. However, if the Capricorn lady catches her Gemini man flirting with another woman, it will put them way back at square one and he will have to earn her trust all over again for her to want to take the bedroom plunge with him. So again, there are possibilities here but it would take work, compromise, and patience.
Perhaps if the Gemini man could put all his flirty ways into use by impressing his Capricorn lady, he could score in a big way. She would open up to him and share the wonders she has inside thus making the patience worthwhile. The question is, does either want to wait to see if it gets better?
What are the chances?
This match up would take a lot of work and patience. These two don't particularly understand each other very much. They would have to dedicate time and energy into figuring each other out and meeting each other's needs. If Gemini would temper his flirty ways a bit, he could find an excellent match with the Capricorn lady. She could teach him how to balance his check book and make sure all the bills are paid.
These two could also make amazing business partners because they've both got what it takes to make sure money is flowing in at all times. They both work hard and like to have many irons in the fire so that success is well underway. The difficulty between these two however, is that on a soul level, they really don't mesh well and really don't "get" each other.
This is match that could work but most likely will not. Most people won't have the patience to wait it out and see how things go. The Gemini man is very social whereas the Capricorn woman is more introverted and likes to stay in more often than not.
That makes it hard for Gemini to get out and do his thing as she's not likely to be Ok with him wanting extra time and space away from her. She will take offense to this and thus making him uncomfortable. The two are likely to part ways and move on. This definitely isn't the best match. Not the worst but not the best either.
If you're ready to understand more about how compatible are Gemini man and Capricorn woman, check out my brand new Gemini Man and Capricorn Woman Love Compatibility Guide, and if you want to catch him and keep him click here to learn more about Gemini Man Secrets.
HOW TO ORDER MY "GEMINI MAN SECRETS" GUIDE?
Click this link here and when you scroll down to the bottom of the page click "ADD TO CART." Once you complete your order, you will gain INSTANT access and can start understanding your Gemini man within minutes. You now receive 4 amazing guides PLUS my "VIP CONSULTING" to ask me anything — all for the price of just 1 guide! My Gemini Man Secrets helped THOUSANDS of women like you…understand, attract AND keep their special Gemini man, I'm sure it can do the same for you, too.
---
---