Are you thinking of getting involved with a Gemini man and wonder what he may want when you finally get in bed with him? These tips could help you to prepare yourself for the Gemini adventure.
Visual Assistance
The Gemini man is a voyeuristic person. He really likes to watch but more than that, he likes to watch himself doing the action. Gemini men are a bit into themselves and so they like to "see" what they can do.
He will enjoy getting into positions where he can really observe his movements. This would be doing positions such as "doggy style" where you are on all fours and he enters you from behind. He really loves this position.
He being able to see himself enter you; will be a big thrill for him. What would make him even more excited would be to have a mirror or two around in which he can look in it at the same time so he can have various views.
Variety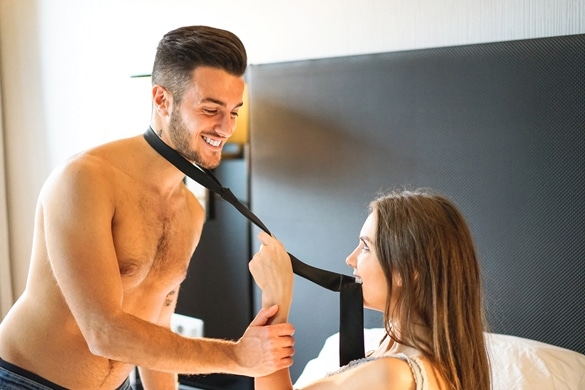 This man will always be looking for adventure in the bedroom. He bores easily and looks for various experiences to behold in order to find full satisfaction. This means he wants to find creative ways to explore some new territory.
Since the Gemini man does love variety, he will want you to be someone who will be up for just about anything. Being spontaneous and provocative will make him feel as though you're really stimulating for his senses.
Doing things such as role play, talking about your own fantasies in great detail, or talking to him about what you want to do with him explicitly will definitely help push that button you're looking for to get his motor really running.
Remember that diversity is what the Gemini man truly craves in the bedroom and in his life in general. Whatever you can to do appeal to his senses will turn him on. Then you have to keep going and keep him guessing so he doesn't get bored.
He wants to please you
While he loves being the observer in a way; the Gemini man also wants to make sure that he pleases you first and foremost. He wouldn't feel whole or complete if he didn't do his job of making sure you're happy in bed.
With the voyeur side of him, he may want to perform oral while looking up at you to see how you are reacting to the various methods he may be trying. He really does want to get it right and makes sure your experience is highly satisfying.
He may want to make sure that you enjoy yourself more than he does. Many times they will make sure you go first then he can join in. He isn't doing it for an emotional bonding reason though. In fact, he's doing it just for pure sexual energy.
If you are looking for things to be full of passion and soul touching; this man isn't into that sort of sexual experience. He just really enjoys the act and when he's done, he's done.
Group Endeavors
The Gemini man has no inhibitions whatsoever. He also has no jealous bones in his body. This is the man that will be perfectly willing and accept it if you wanted to have an open sex life. He would welcome it.
With his love of variety and love of watching you enjoy yourself would be that much more enjoyable for him if there were one or more people involved. This guy would also not have any issue at all being involved in an orgy or two.
If you're interested in being a couple that swings with others; he'll be into it. He would absolutely love to be able to sample other women and watch you with other people at the same time.
While he isn't the jealous type; he would still want you to at least be honest with him and tell him when you do have a sexual interlude with someone without him. He'd prefer to watch you doing the act but will understand if you wish to alone.
Stress Relief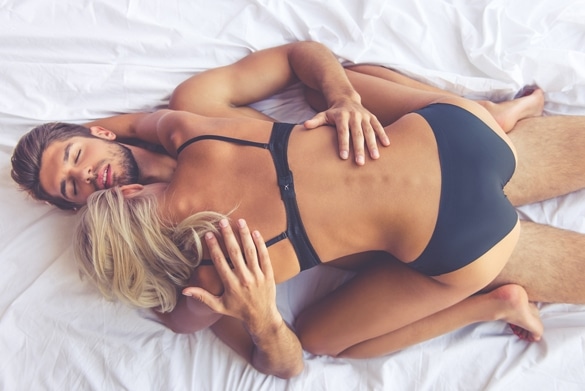 Just as with many men, Gemini men sometimes use sex as a stress reliever. So if you notice that your guy is a bit tense or even angry; pull him into the bedroom and do something wild like masturbate in front of him.
He will soon forget whatever he was stressed about in the first place. He'll also really love how spontaneous you were to take care of his needs. It will turn him on and keep him wondering what you will do next.
Don't be surprised if he pretends to be upset just so that you drag him off into the bedroom to do wild things. It's not just limited to the bedroom either. If you want to take him to a park and give him oral there; he will not mind one bit.
Playing with each other in a movie theater isn't a bad idea either. He'll enjoy trying all sorts of different explorations that provide him with the ultimate stimulation. If he notices someone is watching, he'll be even more turned on.
Kinky Sex
This man is into just about anything you want to dish at him. He will enjoy watching you use toys. He may also enjoy you using toys on him. It would be even better if you played with toys with another woman.
Even if you did this with another man in front of him, he'll really eat it up and turn him on quite a bit. Keep in mind that there isn't much you can do to make this man jealous.
If you want to turn him on in bed, you'll need to be adventurous or he will quickly get bored and look for it elsewhere. This doesn't mean you have to have orgies or three ways. However; if you want to play out a fantasy like this one or twice, he's totally Ok with it.
This man is a thrill seeker in bed and if you want to keep up with him, you'll need to be able to free yourself of inhibition.
I truly hope this helps you to gain the insight you need to enjoy yourself in bed with your Gemini guy. I do have a book with far more information in it if you would like to check it out. Check out Gemini Man Secrets to reveal so much more about this intriguing man.
HOW TO ORDER MY "GEMINI MAN SECRETS" GUIDE?
Click this link here and when you scroll down to the bottom of the page click "ADD TO CART." Once you complete your order, you will gain INSTANT access and can start understanding your Gemini man within minutes. You now receive 4 amazing guides PLUS my "VIP CONSULTING" to ask me anything — all for the price of just 1 guide! My Gemini Man Secrets helped THOUSANDS of women like you…understand, attract AND keep their special Gemini man, I'm sure it can do the same for you, too.
---
---