Are you really drawn to a handsome and charming Gemini man? Are you wondering what you can do to get him interested in being more than friends? Well you're in luck. I've got some tips for you today that may help you get him to really notice you more.
Form a solid friendship first
Gemini men are not typically quick to jump into love relationships. They like to take their time. Not that they're afraid, they're just literally not in any sort of hurry to commit themselves to one person. It's their nature to be free and available for fun.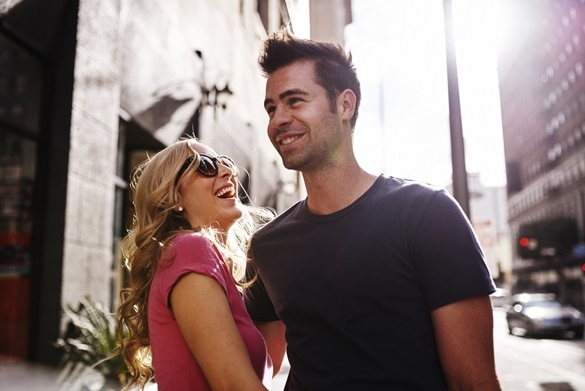 On that note, the first way to get their attention and get their adoration for you to grow is by being a really awesome friend. Spend fun time with them. Invite them to go check out the latest action hero movie (or whatever type they like). Maybe do something spontaneous like invite your Gemini guy to go skydiving. He will appreciate you being fun and spontaneous both.
Becoming the Gemini man's friend is important. He will learn that you are someone that doesn't need to be bound by rules, time, and are by no means boring. This is great since he's in constant need of stimulation and excitement. When life becomes dull, he will find whatever he has to in order to perk it back up again.
How to go from friend to more
As difficult as it may be to get a Gemini to fall in love or have deeper feelings than just mere friendship; in the end, it may very well be worth all the work. Though he can seem flaky or indecisive at times, he isn't unstable. He is just more of a go with the flow type of guy and will go with whatever he feels at any moment.
Be flirty with him as much as possible. If you can, find an intellectual topic of conversation to use to start things off. Then try to twist it into something sexy and tempting. Just keep in mind that the Gemini man is very flirty. It's who he is and he is not likely to change. If you are not threatened by him flirting with others, then you may stand a chance.
If you worry about him cheating just because he flirts, then maybe he isn't the one for you. Make that distinction very quickly before you go any further with your Gemini love interest. He needs a partner that isn't jealous and doesn't feel threatened at all by him flirting or making eyes at other people. Confidence and thick skin is something you may need.
Know that this man is pretty liberal when it comes to relationships and love. He's open and ready for anything. If you're alright with this and basically let on to him that you've got no problem with it, he will be very turned on and may very well see you as a great potential life partner.
How to seal the deal
You're going to have to stimulate his mind as well as his libido. If you are free loving and spontaneous then you are exactly what he is looking for. You could cook wonderfully and be the tidiest person but if you don't give him personal freedom and do not go with the flow, you are not what he wants.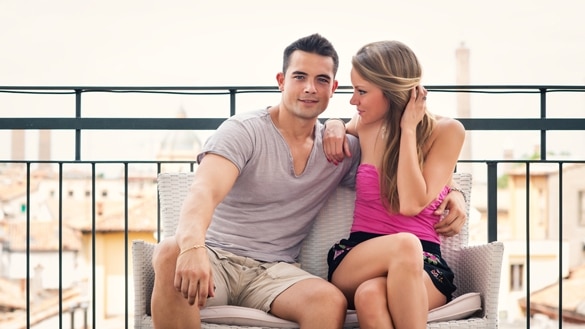 Once you've got him hooked, you'll have to keep him by doing what you did to get his attention in the first place. If you've got a wild side of yourself, let your Gemini see this. It will be a huge turn on for him. If you're even open to adding a third person in the bedroom, this would really astonish him in a good way. If you aren't, he will respect you but again, you will have to make sure that getting jealous over his flirtations don't happen. You could lose him if you show signs of jealousy or possessiveness.
Keep your Gemini laughing and randomly do things for him he doesn't expect. These things show him how much you truly care and he'll respond well to it. Mix things up in your life as much as you can. This will help him from feeling bored and thus keep him happily at home.  An example would be serving him a nice fancy dinner and you serve it to him naked!
This is the type of guy that can be seduced by doing things like role play in the bedroom. Masks, whips, handcuffs, and other new and exciting scenarios will keep him stimulated and motivated. That's just bedroom play though. You've also got to keep his mind stimulated as well.
The Gemini man needs to know you're not only great in the sack, funny, spontaneous and a great person; but also he needs to know that you are dependable and will be there for him when he really needs you. If or when he has a crisis, you need to be a solid person for him. If you can handle all these things, you may have your lifetime match.
If you're still unsure about what he thinks about you or is he interested in you, i suggest you to read Anna Kovach's guide called Gemini Man Secrets. Here you'll find everything you need to know about your Gemini man. 
HOW TO ORDER MY "GEMINI MAN SECRETS" GUIDE?
Click this link here and when you scroll down to the bottom of the page click "ADD TO CART." Once you complete your order, you will gain INSTANT access and can start understanding your Gemini man within minutes. You now receive 4 amazing guides PLUS my "VIP CONSULTING" to ask me anything — all for the price of just 1 guide! My Gemini Man Secrets helped THOUSANDS of women like you…understand, attract AND keep their special Gemini man, I'm sure it can do the same for you, too.