Hi, there ladies! How was your February? Full of love and romance I hope! March is probably the most important month of the year, so hold onto your bootstraps because a lot is about to change in the world and the psyche of your Gemini man. Everything is about to change!
Jupiter and Venus are both in the sign of Aries this month! Your Gemini man is going to experience a lot of luck and blessings in his friendship circles and communities. This is a really good time for him to network and put himself out there to help him boost his hopes and dreams. This is also an opportunity for him to have fun, but also to be at the right place at the right time. 
The Full Moon in Virgo on March 7 will give a boost to your Gemini man's home and family life. His domestic life might completely change over the course of this Full Moon. He may have some family stuff he needs to deal with, so be as supportive as you possibly can as we all know how difficult family issues can be.
Saturn enters Pisces on March 7 which is going to bring massive changes to the world and your Gemini man is most definitely going to feel this in his career. He may receive way more responsibility at the workplace, so the pressure is definitely on. This is a really great time for him to prove himself and work hard towards his goals. He has the opportunity to really come into his own now, but it may be a time of challenge you both need to prepare for.
Pluto enters Aquarius on March 27 and this brings a turning point in the world as this planet is going to stay in this sign for the next 20 years. The changes will start out subtle, but a very big shift is about to take place in his beliefs, philosophies, and how he sees the world. He may definitely become more involved in foreign affairs and cultures over this transit. So don't be surprised if the two of you do a long-distance stint here and there.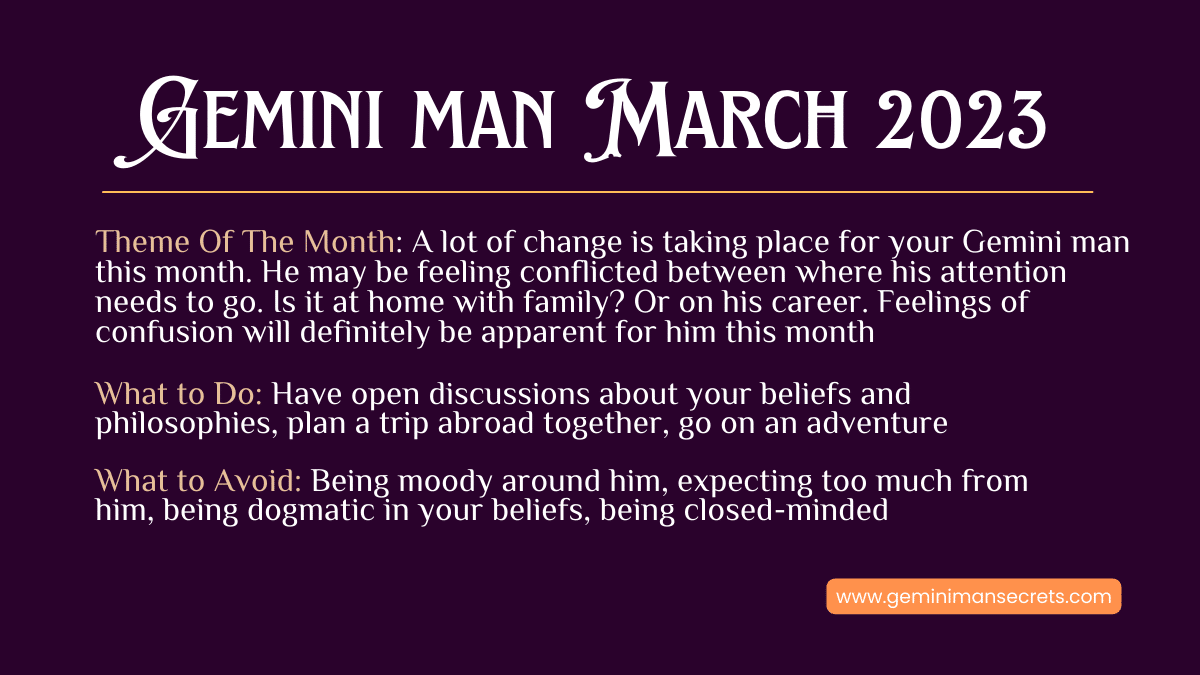 The theme of the Month: A lot of change is taking place for your Gemini man this month. He may be feeling conflicted between where his attention needs to go. Is it at home with family? Or on his career. Feelings of confusion will definitely be apparent for him this month.
Magic Phrase: "You've been working so hard recently, I'm so impressed."
Text Magic: "I am the luckiest girl in the world to know you"
Do: Have open discussions about your beliefs and philosophies, plan a trip abroad together, go on an adventure
Avoid: Being moody around him, expecting too much from him, being dogmatic in your beliefs, being closed-minded
Access full Gemini Man Horoscope for 2023 Here
Fun And Connection
March is going to prove to be a very busy month for your Gemini man. He has Jupiter and Venus in his house of friendships and communities. Both of these planets bring luck and blessings, so it would be good to encourage your Gemini man to spend some time with his friends.
If you aren't in a relationship with your Gemini man, but you are one of his friends, this is the opportune time for you to make move on him. He will definitely feel more open about pursuing a friend over this transit of Venus and Jupiter being together. 
This is really a period of fun and community for him. Encourage him to be social and to put himself out there. But let's be honest, Gemini men don't need any extra push to see their friends as they are probably the biggest social butterflies of the Zodiac.
This time can also prove to be quite fruitful for him to network and meet the right people who can support him on his journey in his career. Your Gemini man knows that it isn't always what you know, but who you know who can help you to get ahead. 
Home Is Where The Heart Is
The Full Moon in Virgo may definitely stir some stuff up for your Gemini man in his home environment. He may come to a crossroads where he needs to decide if he is going to stay in his current place, or perhaps move to a different location. He may also be considering moving in with you over this transit. See how this plays out for you both. 
Stuff may also be coming up around his family, perhaps there is a conflict that he needs to sort out, or a relationship with one of his parents needs some attention. You know how men get about their families, so it would be best if you just gave him the space to figure things out. 
Offer your support, but don't nag him if he needs some space. Guys always deal with stress very differently from us women, so give him the chance to come to you for help. Good luck!
Moving On Up
Your Gemini man is definitely leveling up now that Saturn is moving into Pisces. This is especially the case if he has been working really hard over the last few years because now he'll be able to see the fruits of his labor pay off in a big way. 
This transit won't always be easy as he may be faced with many challenges and restrictions that can impede on the time the two of you spend together as a couple. However, this hard work of his is definitely going to pay off. 
You can either be the energy that supports him with these big changes, or the energy that holds him back. Try your best not to be selfish and remember that it takes two to tango. Sometimes major sacrifices need to be made to help your partner move forward towards their goals. 
Ask your Gemini man what he needs from you and what you can do to make his life easier. This support and knowing that you are there for him will definitely help him to go through these challenges with greater confidence. 
Not Everything Is Set In Stone
There are very big changes happening in your Gemini man. These changes are subtle but they are influencing his beliefs and philosophies. Your Gemini man is by nature very curious and inquisitive, so seeking knowledge is nothing new to him. 
However, when Pluto makes his way into Aquarius, this search for knowledge is going to take on new depths. He is going to want to dive deep and go on a mission of discovery as he looks for the answers connected to the Universe. 
This may be a deeply spiritual time for your Gemini man. He is going to want to feel a lot more connected to some kind of higher power, or perhaps he will decide to go study something like philosophy so that he can figure out who he is. 
There is also a big chance that your Gemini man is going to get connected to many foreign people and this may help boost his career. There is definitely the chance that he may get some opportunities abroad, so don't be surprised if an international job offer comes his way.
Prepare for your relationship to possibly move into long-distance territory or for you to perhaps make the move with him. These changes will definitely affect you both, and of course, this energy is playing out in your chart somewhere as well. 
This is a powerful time for your Gemini man. He is about to undergo a major process of transformation. Just wait and see how it is going to unfold. 
Want to get the guidance to be his dream woman in 2023? Take a look at Gemini Man 2023 Secrets here.
Final Word 
And there you have it my darlings, if this hasn't quenched your thirst, you know where to find me, same place, as always.
March stands to be quite an exciting month for Gemini man and his companion, so make sure that you're prepared for better or worse, and that you sharpen that sensual spirit within him. Be his rock and don't take his changes personally, remember these changes are happening to you on some level as well. 
The two of you should be able to work together as a team to grow closer. Allow the energy of March to unfold naturally, and do your best to try and not control the outcome. Life is much easier when you can accept the shifts and live in the flow of the moment.  
This is a month of major changes and it may feel like a bit of a rollercoaster ride, but if your own spiritual practice is sound and strong and you know how to soothe yourself, then dealing with the changes of your Gemini man shouldn't knock your confidence too much. 
Ask him how you can support him and what he needs from you, but don't forget about your own needs and take care of what you need first. Neither of you is ever going to be the same, but it is better if you can manage to grow together instead of apart. 
So have fun, go wild, and I'll see you next time around, 
Wishing you love and luck with your Gemini Man, 
Your sister and relationship astrologer, 
Anna Kovach
---
---