Hello my lovelies, how are you, and how's the mood for February? 
I hope you are doing well and are feeling the end of all retrogrades we had entering this year. How did January treat you? Tell me all about it in the comments, but before we get to that part, let's dive into Gemini man's predictions and see what this month has in store for him. 
The first week puts Gemini man in an electric and mentally "buzzy" mood, so he might be wired. You might have a more difficult time "controlling" and "manhandling" his level of crazy, but hey, at least it won't be a boring week. 
2nd week is a great opportunity to discover himself, and for you to witness his emotional growth. You can push your (dating and romance) agenda this week, just make sure the activities you have in mind are daring, if not entirely adventurous and amusing. 
The third week represents a great opportunity to champion him and surround him with good vibes and positive people. It's a week when you need not worry if you're coming on too strong, you should be brave and headstrong at this point in time, he'll love it. 
The final week is a good time to let him take the charge and to keep him on his toes with your mysterious, yet intellectual aura. It's a great time to go stargazing and talk about your feelings while cuddling.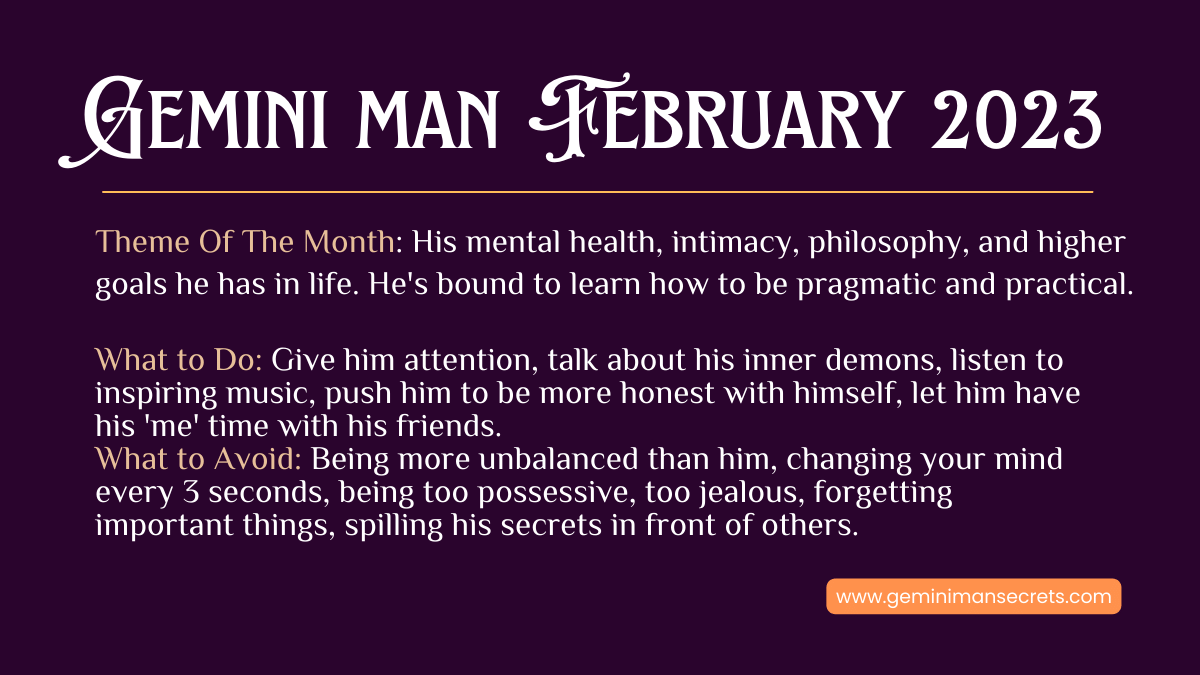 Theme of the month: this month, Gemini man will question his mental health, intimacy, philosophy, and higher goals he has in life. He's bound to learn how to be pragmatic and practical. 
Magic Phrase: "tell me all about your day, inner musings and all the feelings and thoughts you're having." (on the 5th), and "babe, you haven't touched this juicy gossip at all, what's wrong, tell me all about it" (around the 20th). 
Text Magic: "Baby, don't worry! I'm here for you, and all of your plus ones that you're carrying around in your head 🙂 ". A little light-weighted joke about his inner turmoil might soothe him.
Do: give him attention, talk about his inner demons, listen to inspiring music, push him to be more honest with himself, let him have his 'me' time with his friends. 
Avoid: being more neurotic than him, changing your mind every 3 seconds, being too possessive, too jealous, forgetting important things, spilling his secrets in front of others. 
Access Gemini Man 2023 Horoscope Here
Fussy, fussy, fussy little miss Sussy 
At the start of the month, Gemini man will be in the needy mode thanks to Moon conjunct Mars in his 1st house; he'll be attention-seeking, spoiled, and panicky; so it might be a good idea either to ignore him completely or to adhere to his insanity and spoil him even further. 
As the week progresses, he'll become (just a little bit) obsessed with money, his earnings, and his diet. So this can be a good time to let him go at it while you cook some delicious and warm soups/meals that are more liquid than solid. This might seem like a minor detail, but trust me, his digestion will improve his mood by 300%. 
On the 5th there's a Full Moon in Leo, in his 3rd house, and this might cause him to be a tad bit more dramatic than usual, and louder, as well. This is a good time to just witness his theatrics and laugh at his jokes. If he feels the need to take you out on some grandiose date – let him, just make sure he doesn't cause an (unnecessary) scene. 
At the end of the week, his focus will shift to the home atmosphere, and he might be overcome with an urge to clean and rearrange his furniture. Your job is to make him relaxed, and as calm as possible, otherwise, he might overspend on things he doesn't really need, at least not right now. 
Dig deeper Dorothy, deeper! 
At the start of the 2nd week, your time to shine comes – ask him out on a date, have fun gossiping about sus people in your lives, do cozy facials at home, and drink hot cocoa and bubble teas. This is a great time to get your romantic wishes fulfilled, so go all out and suggest to your heart's content. 
As the week progresses, his focus will shift to his daily routines and his job, he might experience some déjà vu at work, and he'll get panicky and talkative about it; you might get an overflow of text and voice messages from him during these couple of days. 
Towards the end of the week, the stars will be on your side, so make sure you guys are doing what YOU want to do, and have romantic times on your terms. Gemini man will be fine with it, as long as the activities are interesting and even daring. This is a good time to go wild and to go all out with whatever crazy idea comes to your mind. 
On the cusp between the 2nd and 3rd week, his mood will turn inwards, like there's a such thing as 'inward' with Gemini man, I know, but this might be a good time to explore his inner drives and feelings. He might be especially edgy around the 13th, so make sure to soothe his mind and guide him down the path of practicality, until he reaches the deeper truth about why he is the way he is in critical times. 
Super New Moon says super hello 
3rd week kicks off with a Super New Moon in Pisces, in his 10th house, and there's a lot of interesting stuff taking place in the sky at this time. This is a good time for him to go public with a creative idea, especially if he put a lot of emotion and his inner child into it. 
This week is also a great time for you to be supportive and somewhat protective of his dreams and aspirations. If you stand in his corner during this week's trials and tribulations, Gemini man will see you in his child(ish) heart as his hero, his knight in shining armor, and you'll earn his eternal loyalty. 
This week is also a great time for you to showcase your boldness and innovative spirit. So, you might feel like organizing a surprise party, or a fun event with his friends in order to support him and lift his spirit. He should be surrounded with a lot of positivity and enthusiasm this week, and you can give him that. 
The end of this week is a good time for you to take initiative, to be brave, and to show him who's the boss in this relationship, but in a creative and intellectual manner. He'll enjoy playing mind games and having his intellect beaten at this time; it's going to be an aphrodisiac for him, so play that card hard, and play it without mercy. 😉 
Stargazing as a lifestyle
When the final week comes, you'll get a chance to peek into the workings of his inner mind, especially if you guys sleeping together, he'll have vivid dreams (or even nightmares), and you'll get to play a hero a bit longer. 
As the week progresses, his focus will be back on himself, and he'll feel braver than he felt since the start of the month. Now, thanks to you, he'll have his courage rise from within, and he'll feel like taking up the lead in your dynamic. 
This is a good time to let him take charge, and 'play by his rules' for a couple of days, especially if he feels the need to plan the dates and fun activities you two can do together. He won't disappoint, that's for sure, trust me, I'm a Gemini too.
The end of the month will put him in a more mature and emotional mood, so it's a good time for more homey/cozy dates, dates where you two can be vulnerable and open with each other. But don't be too open, you have to keep him guessing and wondering to some extent, he is, after all, a Gemini, and he mustn't get bored.
Want to get the guidance to be his dream woman in 2023? Take a look at Gemini Man 2023 Secrets here.
Final Word 
And there you have it, sweeties, don't forget to tell me all about your January struggles and adventures down below, and if you still feel curious, you can contact me here for a fully personalized reading that will give you answers to most, if not all, of your questions. 
Gemini man's February is going to be an exciting and fun ride, with a couple of self-realization days to boast about. It's a good month to get to know him better and to stack up on your mysterious aura and allure. 
February is also good for flirting, teasing him, and showing off your braver and more heroic side. He'll love it, and he'll enjoy being a drama queen on a couple of occasions, let him have his theatrics, and you'll have your cape. 
Until next time my dear,
Wishing you love and luck with your Gemini Man, 
Your sister and relationship astrologer, 
Anna Kovach
---
---